Uli Koch Collection Vol. 1
Gallery and Collection, Super Nikon Fans Social Club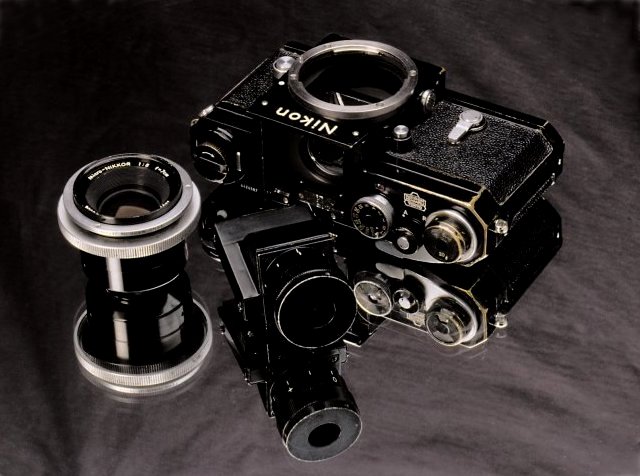 Micro Nikkor 7cm F5 and Black Nikon F with Unusual AS-1 Finder
Photo: Copyright (c) 2003, Uli Koch, Germany, All Rights Reserved.
Uli-san and his "Nikon F Book"
Mr. Uli Koch, Uli-san lives in Germany. He has written very many articles on historic Nikon equipment for the quarterly Journal of the "Nikon Historical Society (NHS)". He has been a serious collector of early Nippon Kogaku equipment for the past 20 years. He is famous for introducing the Nikon J camera to the world.
Also, he is a big name for the Nikon collector in Japan and the world. Because, he published the great book. The title of the book is "Nikon F Book". His nearly 30 years experience and love of the Nikon F, flamed a passion which has culminated in the production of this Nikon F trilogy!!!
About Uli Koch
Taking pictures is a great hobby that fulfil different needs to the daily work. One can be very creative with his camera. Like this I started my hobby with a Nikon F in 1972. Over the years the enthusiasm for the mechanical details of the camera (and the sound) and the lenses were grown. The hole Nikon F system was fascinating me.
Since more than 20 years I'm a Nikon collector. People like me were asking about the German Nikkor story, a nearly not known part of the Nippon Kogaku history. With a long-termed research contacting most people of the former German distributor, I wrote a book about the Nikon F system which will be released in May 2003.
Micro Nikkor 7cm
Manufactured in early 1960's up to mid/late 1960's this lens was one of the Micro-NIKKOR family of Nippon Kogaku. It was offered together with the 5cm f 3.5 Micro-NIKKOR for the Nikon rangefinder cameras, the 55mm f/3.5 Micro-NIKKOR Auto for the Nikon F models and a 150mm f/5.6 Micro-NIKKOR for an image area of 64 mm to 95.5 mm.





This 7cm Micro-NIKKOR has 5 elements in 4 groups, an image area of 32 mm x 45 mm and a weight of 180 g. The resolution is given with 125 lines/mm. It does not have an aperture scale, but the aperture range goes form f/5 to f/22.
Photo: Copyright (c) Uli Koch
Ortho Nikkor 25cm
This lens was specially designed for high fidelity reproduction of drawings requiring large magnification. It permits projection of images of flat pattern materials at 10 times magnification onto an area covering several square meters. Therefore, this lens was mainly used in marking-off of steal plates for shipbuilding.
The first lenses in the early 1960's were engraved Ortho-NIKKOR, later the same lenses had the designation engraved Fax-Ortho-NIKKOR. This lens has 6 elements in 4 groups, an image area of 2000 mm x 2000 mm and a weight of 900 g.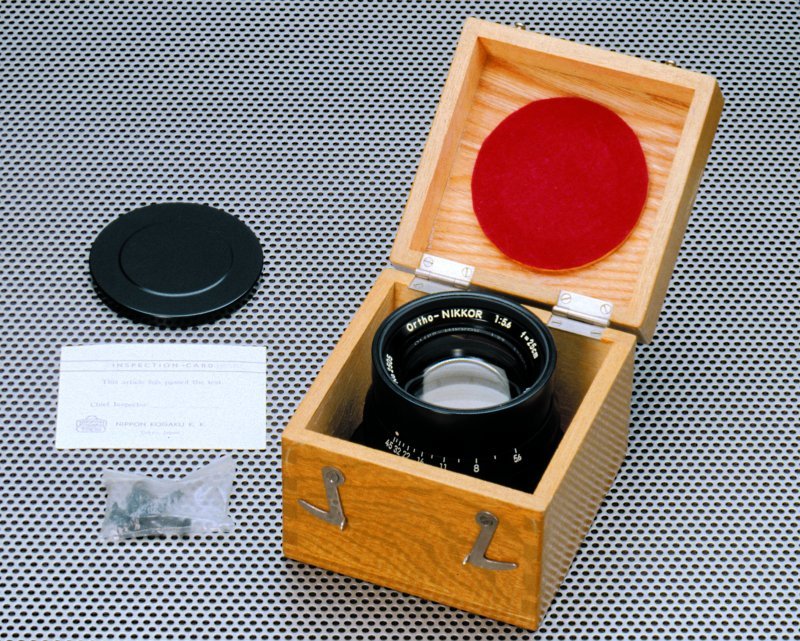 Ortho Nikkor 25cm F5.6 and Hard Wooden Box
Photo: Copyright (c) 2003, Uli Koch, Germany, All Rights Reserved.
Profile Projector lenses
The wooden box contains normally 4 lenses with 10x, 20x, 50x and 100x magnification. The 100x is missing here. These lenses were designed for use with a profile projector, an inordinately large microscope with a huge flat screen for viewing.
Those projectors are used during industrial processes for inspection and precise measurement of small parts and section of larger parts. With lower magnification light comes from the side onto the inspected part. With magnification of 50x and 100x light is coming coaxial via the lens through a little window and a pellicle mirror onto the inspected item.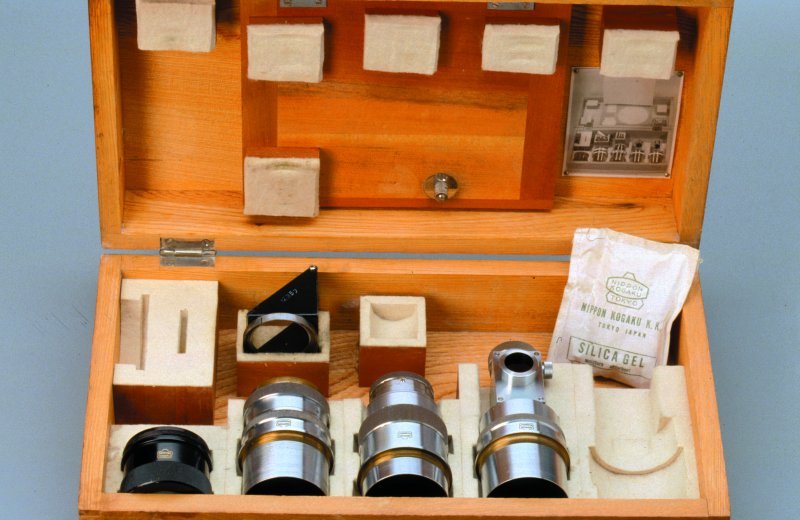 Profile Projector Lenses
Photo: Copyright (c) 2003, Uli Koch, Germany, All Rights Reserved.
The lenses in the wooden box are very early lenses, because they have an unusual Nippon Kogaku logo.
Perhaps this logo was engraved in late 1940's or early 1950's.
Nippon Kogaku Logo
Photo: Copyright (c) 2003, Uli Koch, Germany, All Rights Reserved.
Message from Uli-san
Collecting cameras, lenses and accessories (of Nikon) is a pleasure but also and more and more friendship with many collectors all over the world. For that technical items unite people because they all have the same interests. It is fascinating to see for what purposes Nippon Kogaku / Nikon manufactured lenses, not only for taking pictures for Rangefinder or SLR cameras: the Industrial NIKKOR lenses!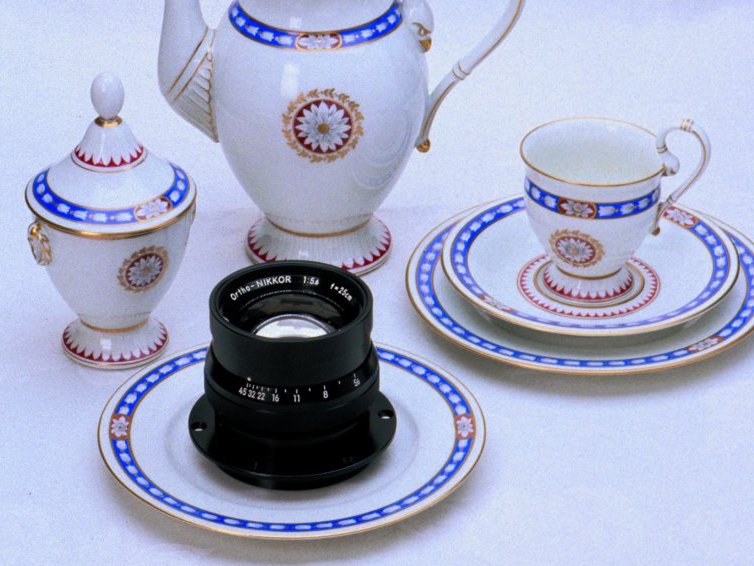 Photo: Copyright (c) Uli Koch
Special Thanks to Mr. Uli Koch
-------------------------
Photo images and text : Uli Koch, Germany
Next Page Articles
→ Next Chapter 2 Uli Koch Collection Vol. 2
Shortcuts
Chapter 0 Top Page
Chapter 1 Uli Koch Collection Vol. 1
Chapter 2 Uli Koch Collection Vol. 2
Chapter 3 Uli Koch Collection Vol. 3
Chapter 4 Uli Koch Collector Report
Back to RED BOOK NIKKOR
---
Copyright Michio Akiyama, Tokyo Japan 2003, 2021