Gallery and Collection, Super Nikon Fans Social Club
Uli Koch
I would like to introduce the Nikon collection of Mr. Uli Koch, Nikon super enthusiast in Germany. Uri-san is a Nikon collector and a world-renowned Nikon historian who continues to publish powerful big books on the Nikon collection.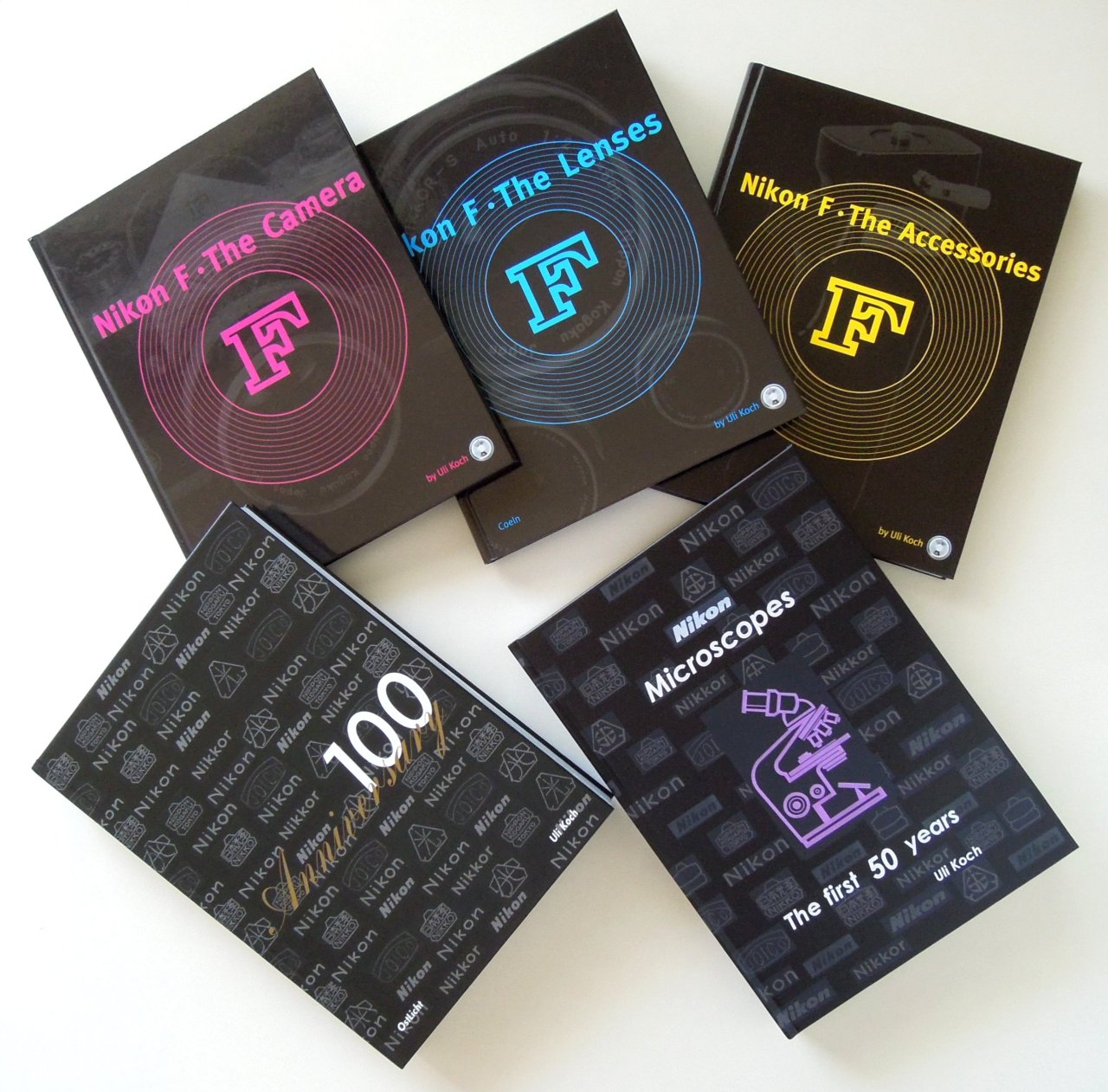 Uli Koch's Gorgeous Big Nikon Books
April 2003
Nikon F - Trilogy
Hardcover, boxed, gorgeous book about Nikon F, consisting of three parts: camera, lens and accessories. Total number of pages: 618 pages. The weight is 3,607 g. It is the Nikon F Encyclopedia that weighs 329 g in the storage box alone.
November 2016
Nikon - 100 Anniversary
A gorgeous book of Nikon's 100th anniversary. Hardcover, 415 pages. Weight 2,285 g. The very rare Nikon collection is covered in detail. This is a must-have dream book for Nikon enthusiasts!
September 2020
Nikon Microscopes The first 50 years
A gorgeous book about Nikon Microscope from the beginning to the first 50 years. Hardcover, 387 pages. Weight 2,295 g. This book contains details of the collection that cannot be seen in general publications, such as Nikon field microscope model H and MULTIPHOT system.
Website for Uli Koch's publications
http://nikon100.net/
Article Introduction
In 2003-2004, I collaborated with Uli Koch to compile the articles. At the time, there was no easy way to send multiple image data over the Internet, so I had them onto a CD-ROM disk and sent by international postal mail. All images were taken in 2003 and 2004 with digital cameras of the time.
Next Page Articles
→ Next Chapter 1 Uli Koch Collection Vol. 1
Shortcuts
Chapter 0 Top Page
Chapter 1 Uli Koch Collection Vol. 1
Chapter 2 Uli Koch Collection Vol. 2
Chapter 3 Uli Koch Collection Vol. 3
Chapter 4 Uli Koch Collector Report
Back to RED BOOK NIKKOR
---
Copyright Michio Akiyama, Tokyo Japan 2003, 2021