Fax-Ortho-NIKKOR 400mm F5.6 Huge Daimajin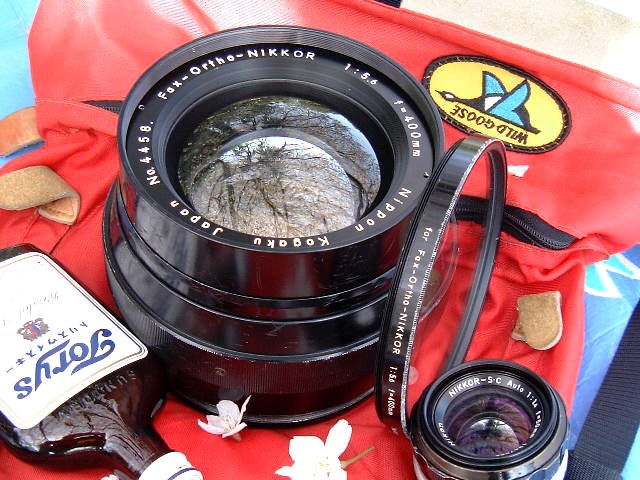 Fax-Ortho-NIKKOR 400mm F5.6 Huge Daimajin
The Huge Daimajin Shipbuilding Lens
Big Dreaming Nippon Kogaku Sakura Party
Super High End Fax-Ortho-NIKKOR 400mm F5.6
Fax-Ortho-NIKKOR 400mm F5.6
One of the more exotic and rare lenses for the Fax-Ortho-NIKKOR series.
The Fax-Ortho-NIKKOR consisted of six elements set in a heavy weight and black painted super fat barrel.
Do you know the usage of this lens?
The Fax-Ortho-NIKKOR is the lens for the production of a big ship.
Shipbuilding engineer needs to cut the steel board in accordance with the designed pattern.
The engineer projects a small pattern (40 cm x 40 cm) with the Fax-Ortho-NIKKOR on the steel board largely (400 cm x 400 cm) and cut the steel board.
Therefore, the lens is highly efficient and a Distortion is 0.00%!!!
The rim of the lens is engraved as "Fax-Ortho-NIKKOR 1:5.6 f=400mm Nippon Kogaku Japan" with white painted character.
Nippon Kogaku is sign of the high-end perfomance and taciturn engineer spirit.
Weight is 3,850 grams.
We called Huge Daimajin. The Daimajin is a monster of 5 meters tall and was a star of the Japanese film in the 1960s.
There are the following 3 kinds of lenses in Fax-Ortho-NIKKOR.
- Fax-Ortho-NIKKOR 250mm F5.6 (Weight 900 g)
- Fax-Ortho-NIKKOR 400mm F5.6 (Weight 3,850 g)
- Fax-Ortho-NIKKOR 500mm F5.6 (Weight 6,000 g)
You can see very beautiful and gorgeous full body of the great lens.
And, You can make the fantastic legend with this lens.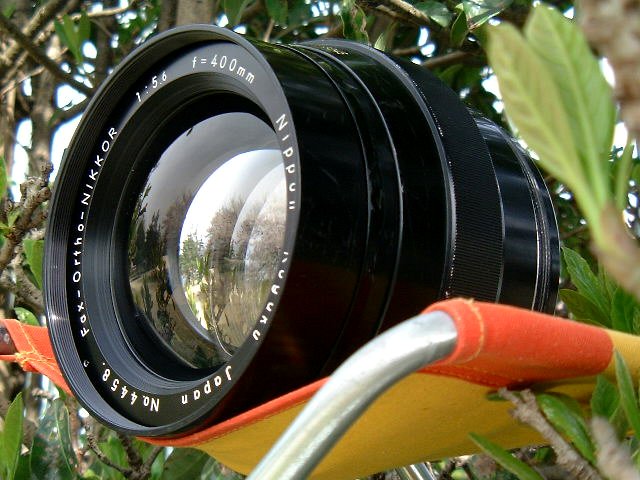 Fax-Ortho-NIKKOR 400mm F5.6 Excellent Large Scale Lens
Specifications
Fax-Ortho-NIKKOR 400mm F5.6
Focal length : 400 mm
Max. aperture : f/5.6
Min. aperture : f/45
Lens construction : 6 elements in 4 groups
Standard magnification : 10X
Picture angle : 54°
Vignettings : 0% (at F8)
Standard wavelength : 350 nm - 700 nm
Distortion : 0.00%
Image area : 3,200 mm x 3,200 mm (4,525 mm⌀)
Subject area : 320 mm x 320 mm (452.5 mm⌀)
Overall working distance : 4,840 mm
Filter size : d=132 mm P=1
Mount : Screw d=140 mm p=1.5 mm
Lens adapter plate o.d. : 188 mm
Weight : 3,850 g
Price : 528,000 Japanese YEN (1969)
Price : 650,000 Japanese YEN (1974)
Price : 650,000 Japanese YEN (1977)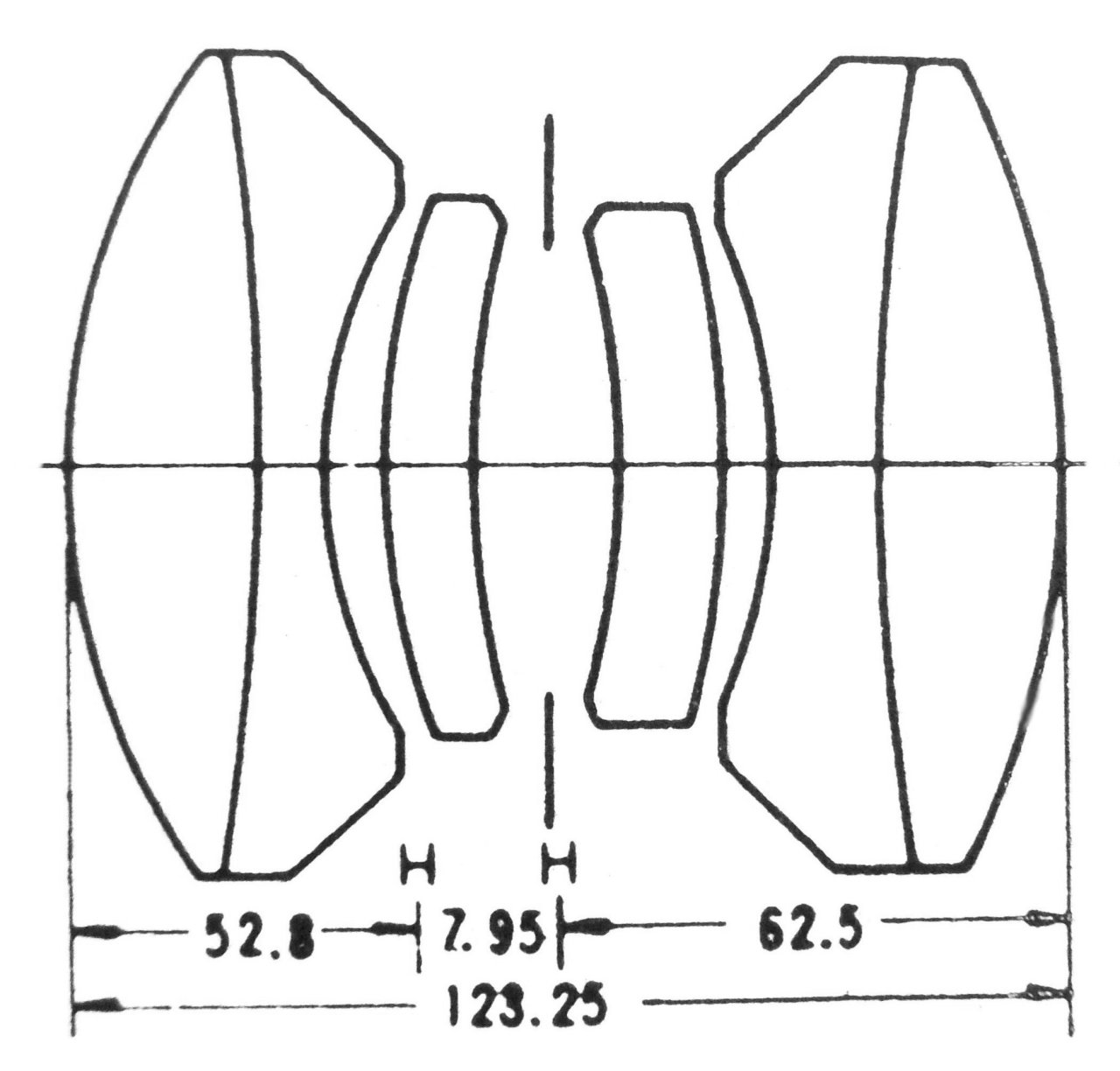 Lens Costruction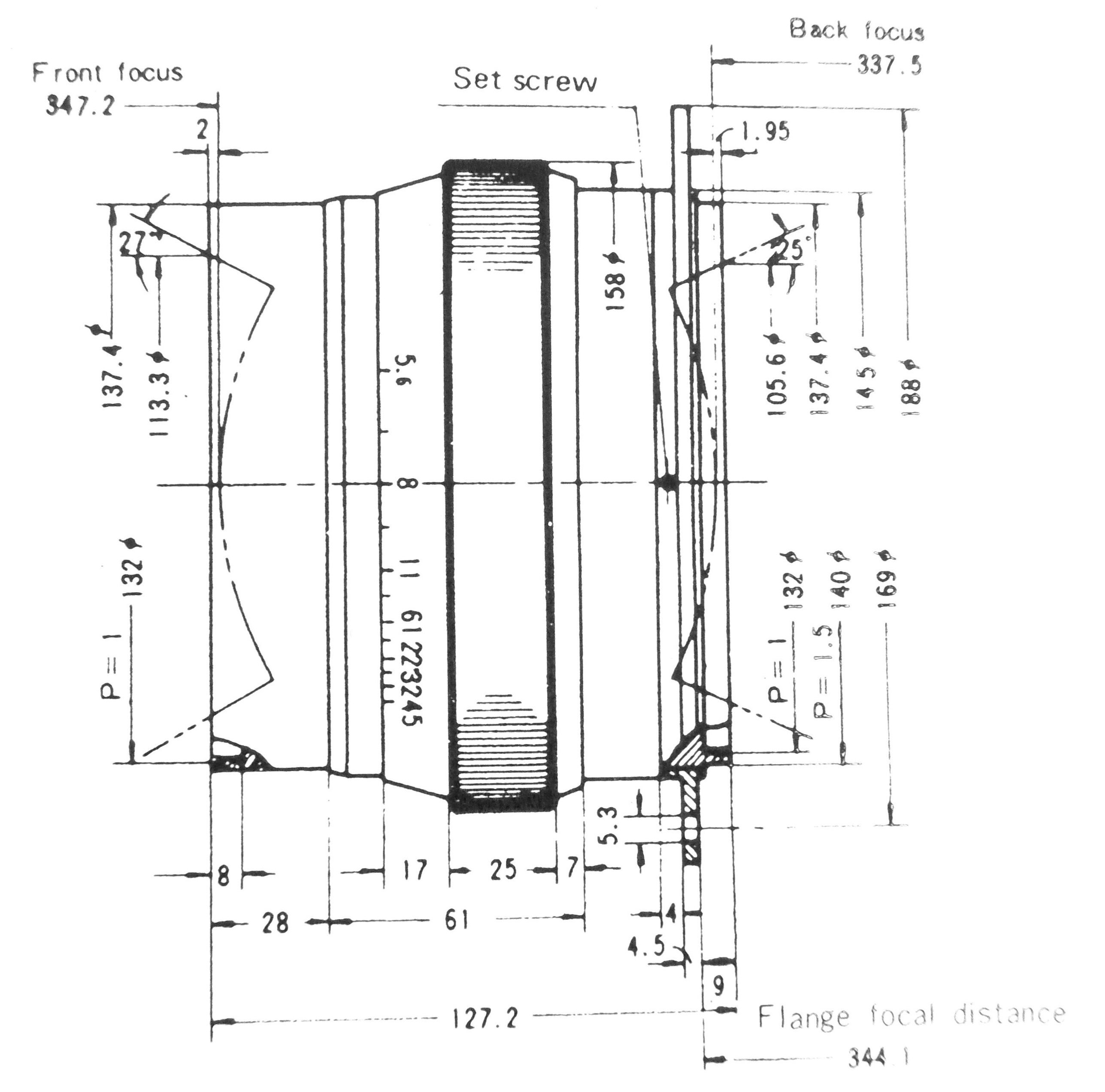 Lens Costruction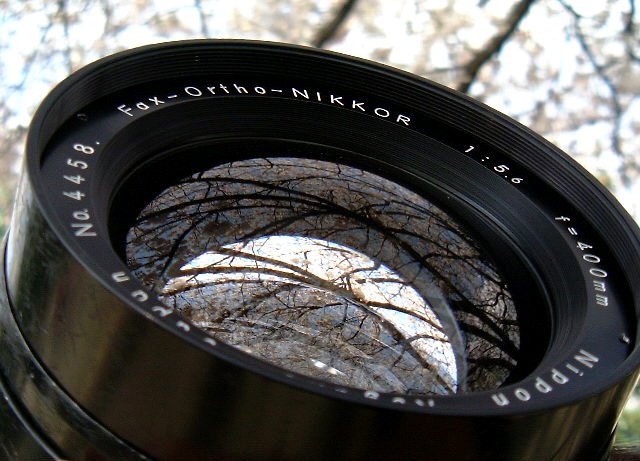 Fax-Ortho-NIKKOR 400mm F5.6 Huge Daimajin, Under the Sakura Sky
Back to RED BOOK NIKKOR
---
Copyright Michio Akiyama, Tokyo Japan 2002, 2019