Nikon Ophthalmic Camera AS-1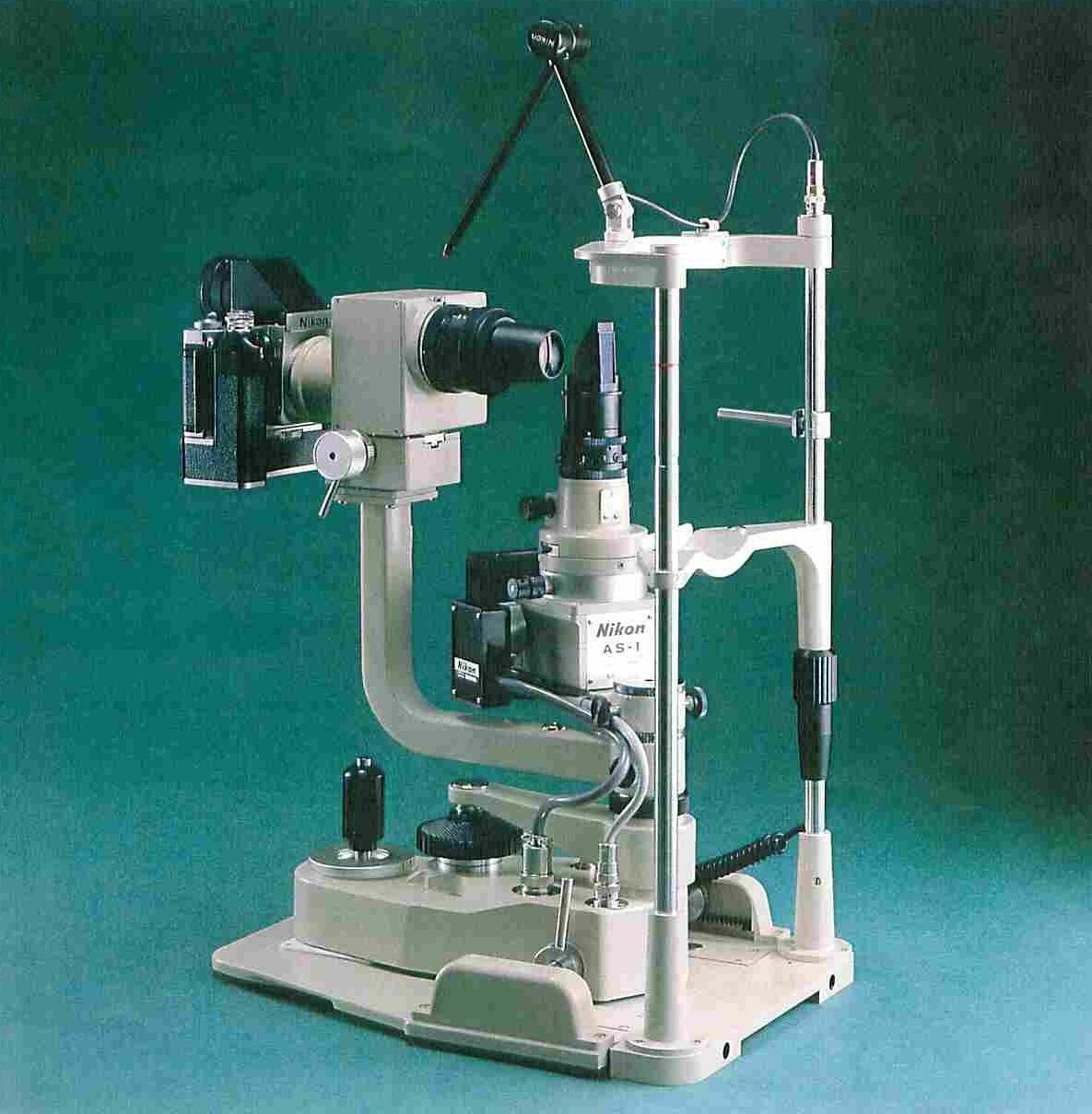 Nikon Ophthalmic Camera AS-1
Copyright (c) 1979, Nippon Kogaku K.K. All Rights Reserved.
Mike Symons
A long time ago. It was 14 years ago. It was June 30, 2006.
Mike Symons of Canada contacted me to investigate some Nikon lenses that I'm not sure about. I immediately looked up the materials I had, but I couldn't find any information. Immediately I published an article called " Mike Symons's Mysterious Lenses " on this site. It was July 8, 2006.
I shouted "INFORMATION WANTED, I NEED YOUR HELP!" to the whole world.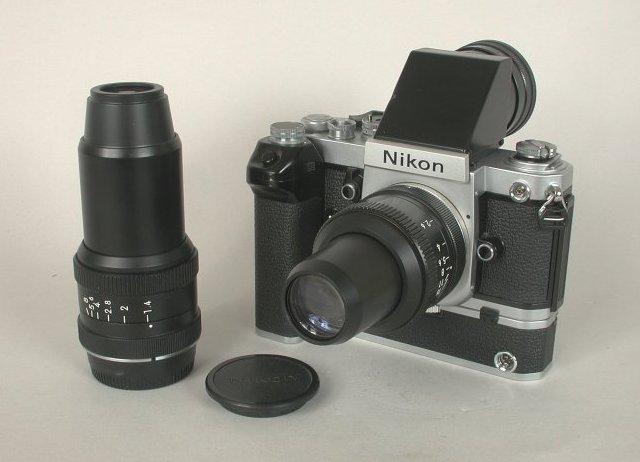 Mysterious strange Nikon medical lenses
Two Japanese doctors
Over time, two Japanese doctors have sent me very useful information. Their names are Dr. Hiroshi Yoshikawa and Dr. Tsuneharu Kuwahara. From the explanations of the two doctors, it was found that these lenses are dedicated lenses (objective lenses) for the Nikon Ophthalmic Camera AS-1. I decided to create an answer article based on these information. I am very grateful to the two doctors. Thank you very much to Dr. Hiroshi Yoshikawa and Dr. Tsuneharu Kuwahara.
The background of the product
I checked the background of the product in Nikon's corporate history. There is an explanation on page 346 of Nikon's 75-year history book, so I quoted it below.
Development of ophthalmic equipment
Until now, the Optical Equipment Division has been in charge of the development of ophthalmology and eyeglass equipment. Based on the concept of a comprehensive eyeglass manufacturer, the Eyeglass Division inherited this from April 1976 and proceeded with the development of new products.
In June 1976, we released the Nikon Ophthalmeter that measures the radius of curvature of the cornea. And in 1977, we released the wide-angle angle-of-view fundus camera Nikon Retinapan 45-II and a projector-type visual acuity chart (chart projector).
Nikon exhibited the Nikon Ophthalmic Camera AS-1 for photographing the corneal endothelium at the 23rd International Ophthalmology Society held in Kyoto in May 1978.
The conventional equipment was in contact with the surface of the cornea of the eye to be examined for photographing. However, Nikon Ophthalmic Camera AS-1 made it possible to observe and photograph the corneal endothelium without contact. Ophthalmologists around the world were interested in the Nikon AS-1 and paid attention to it. The Nikon Ophthalmic Camera AS-1 was released in February 1979.
Reference: Nikon 75 Years, page 346
It turned out that the Nikon Ophthalmic Camera AS-1 was released in February 1979. Next, I would like you to look at the product brochure. This is a valuable historical material published by the Eyeglass Division of Nippon Kogaku K.K. (Nikon) on September 15, 1979. Click on the image to enlarge.
Nikon Ophthalmic Camera AS-1 Brochure
Copyright (c) 1979, Nippon Kogaku K.K. All Rights Reserved.
Brochure
I translated the Japanese version of the brochure into English.
High magnification and high resolution
Nikon Ophthalmic Camera AS-1 was developed to image corneal endothelial cells. The Nikon AS-1 is an epoch-making photographing equipment that enables high magnification corneal, iris, or crystalline lens slit photography by adopting a high magnification objective lens and high-power slit flash illumination. Furthermore, because it is non-contact, you can obtain more natural and excellent photographing results.
Each operation part is carefully finished. It is a high-performance dedicated photo machine. However, it is designed to be compact. Operability is also fully considered. Also clinical use, please make use of Nikon Ophthalmic Camera AS-1 in the field of ophthalmology in the future.
Name of each part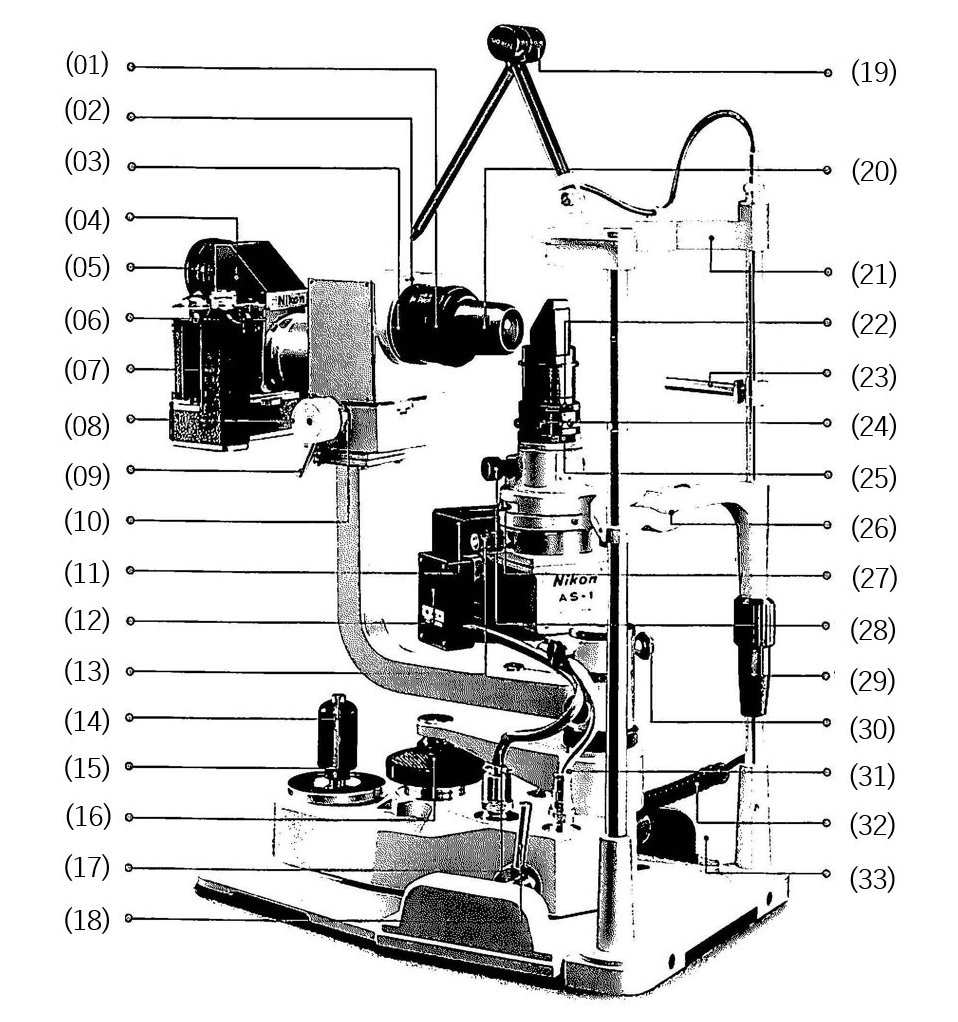 Name of each part ( Left )

(01) Aperture ring
(02) Lens attachment / detachment button
(03) Lens attachment / detachment ring
(04) Finder
(05) Diopter adjustment ring
(06) Nikon F2
(07) Motor drive
(08) Back and forth movement handle
(09) Clamp handle
(10) Friction handle
(11) Lamp house
(12) Strobe tube holder
(13) Slit opening and closing rotary handle
(14) Shutter button
(15) Joystick
(16) Body vertical movement handle
(17) Strobe code
(18) Body clamp lever

Name of each part ( Right )

(19) Fixation light
(20) 10x objective lens
(21) Forehead
(22) Slit lift ring
(23) Hand rest
(24) Band-shaped aperture
(25) Aperture ring
(26) Jaw cradle
(27) Filter
(28) Swing handle
(29) Jaw cradle up and down handle
(30) Arm clamp handle
(31) Lighting code
(32) Spiral code
(33) Gear cover
Features of Nikon Ophthalmic Camera AS-1
I translated the Japanese version of the brochure into English. Photographs of the lenses and accessories are taken by Mike Symons of Canada.
- Uses high-resolution objective lenses (5x, 10x)
The microstructure of the corneal endothelium can also be easily photographed without contact by using a high-resolution 10x objective lens. The 5x objective is ideal for a wide range of anterior segment images.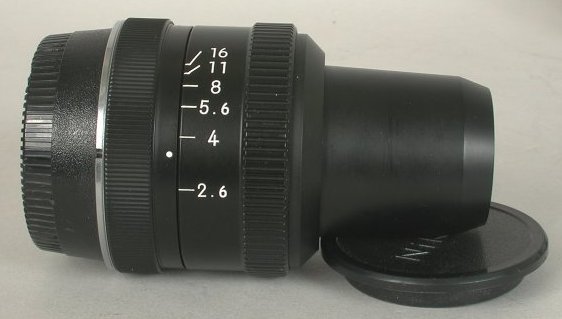 5x objective lens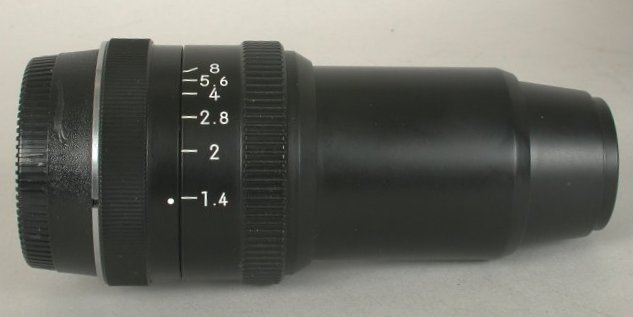 10x objective lens
- Uses a bright and easy-to-see special viewfinder
Uses a 6x special viewfinder specially developed for high magnification photographing. By combining with an objective lens, you can observe images with high magnification of 30x and 60x. Moreover, the screen with the crosshair for measurement is adopted as a finder screen.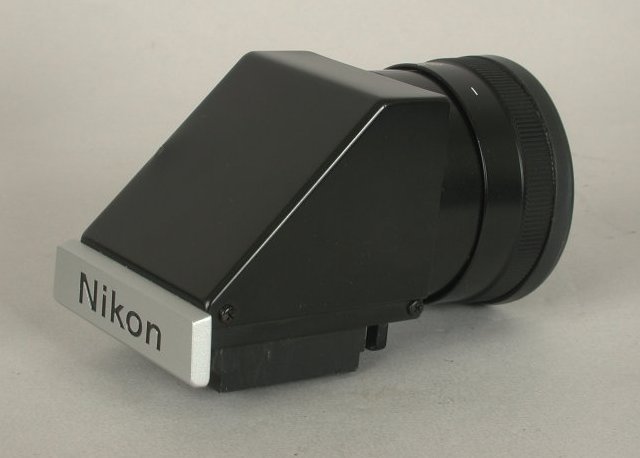 6x special viewfinder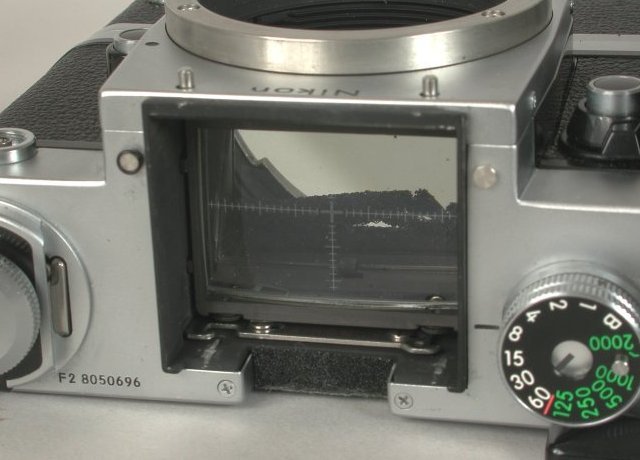 A focusing screen with crosshairs for measurement
- Shutter button that accurately captures the moment
High-magnification photographing requires extremely precise focusing. The shutter button on the top of the joystick works in conjunction with the motor drive to record the clear image captured by the viewfinder without fail.
- Uses halogen lamp
A 6V 30W halogen lamp is used as the observation light source. Creates a sharp and bright slit image.
- Adopts Nikon's original double slit system
Uses a vertical and horizontal double slit system that allows the slit width and height to be freely changed from 0 to 10 mm. Each can be tilted up to 90 degrees, allowing the patient's eye to illuminate the slit 360 degrees.
- Uses a band-shaped aperture for special photography
Not only the brightness and depth of focus of the slit system by the aperture diaphragm, but also the band-shaped aperture diaphragm is available when you want to deepen the depth of focus of the slit image with the vertical slit and reduce the light loss.
- Uses a high-brightness strobe for photographing
A 280V / 500WS high-brightness strobe is used as the light source for photography. The output can be adjusted in 5 steps.
- Adopts coarse and fine adjustment mechanism in the main body
Even a slight misalignment of the main body has a great effect on high magnification photographing. A front-back movement handle and a clamp handle are used to adjust the reference position. It is possible to focus and position the center of rotation.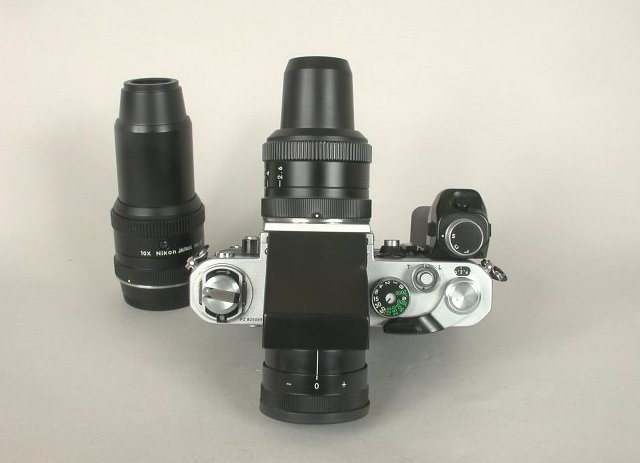 Extremely large eyepiece with 6x special viewfinder
Technical data
(1) Lighting system
Slit image


Slit rotation
Swing
Irradiation angle
Aperture
Filter
Band-shaped aperture
light source
Vertical 0mm to 10mm (variable)
Width 0mm to 10mm (variable)
10 mm round when fully open
Can rotate 90 degrees
10 degrees each on the left and right
0 to 10 degrees down
Brightness and depth of focus can be adjusted
Green and cobalt blue
Vertical 8mm width and 4mm width
6V30W halogen lamp (3 steps switching)
(2) Photographing system
Objective lens
5x Objective lens


10x Objective lens


Finder

Screen
Total magnification
Camera
Camera movement
Shutter release
light source

5x and 10x, Nikon F mount
5x magnification
Working distance 68 mm
F stop F2.9 to F16
10x magnification
Working distance 33mm
F stop F1.4 to F8
6x magnification, Erect image
Diopter adjustment range -5.00 Dptr. to +3.00 Dptr.
Special screen with crosshairs
30x and 60x
Nikon F2 with motor drive unit
Back and forth movement ± 25 mm
Joystick top shutter button
500WS strobe (5-stage switching)

(3) Base mount
Sliding base



Jaw cradle
Fixation light

Horizontal coarse movement
± 30 mm back and forth, ± 50 mm left and right
Horizontal fine movement ± 9 mm
Vertical movement ± 15 mm, Clamp stops at any position
Vertical movement 50mm
6V 10mA, Wavelength 700nm, Luminous intensity 0.5mcd
LED used

(4) Power unit
Input voltage
Power consumption
Various outputs

AC100V, 120V, 220V, 240V can be switched
Total load average power 200VA
Strobe output (within 6 seconds of recharging)
Lighting output, fixation light output, motor drive output
(5) Height
Find position
Forehead stop position
Table position

453.5 ± 15mm
509.5mm
680 to 880mm, Hand rest position 331mm
(6) Weight
Main body
Power unit
15 kg
12 kg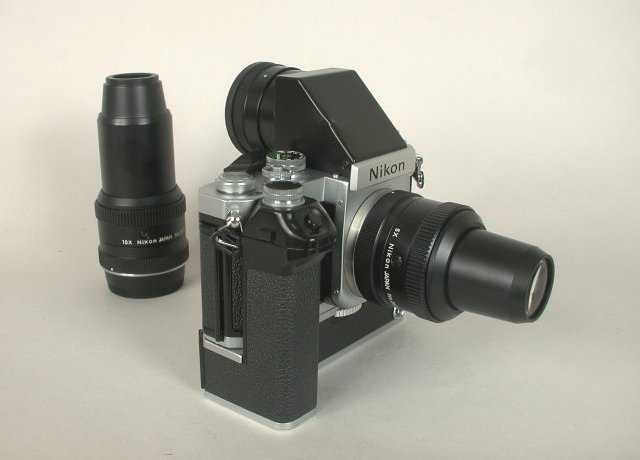 Nikon F2 AS-1 camera and dedicated lenses
Price
The 2x objective lens was featured in an advertisement of 1981. Therefore, I think the market prices shown below are around 1981.
Nikon Ophthalmic Camera AS-1 Set 1
(Includes 5x and 10x objective lenses)
1,370,000 Japanese YEN
Nikon Ophthalmic Camera AS-1 Set 2
(Includes 2x, 5x and 10x objective lenses)
1,465,000 Japanese YEN
Price of the lens alone
2x objective lens
5x objective lens
10x objective lens

80,000 Japanese YEN
120,000 Japanese YEN
160,000 Japanese YEN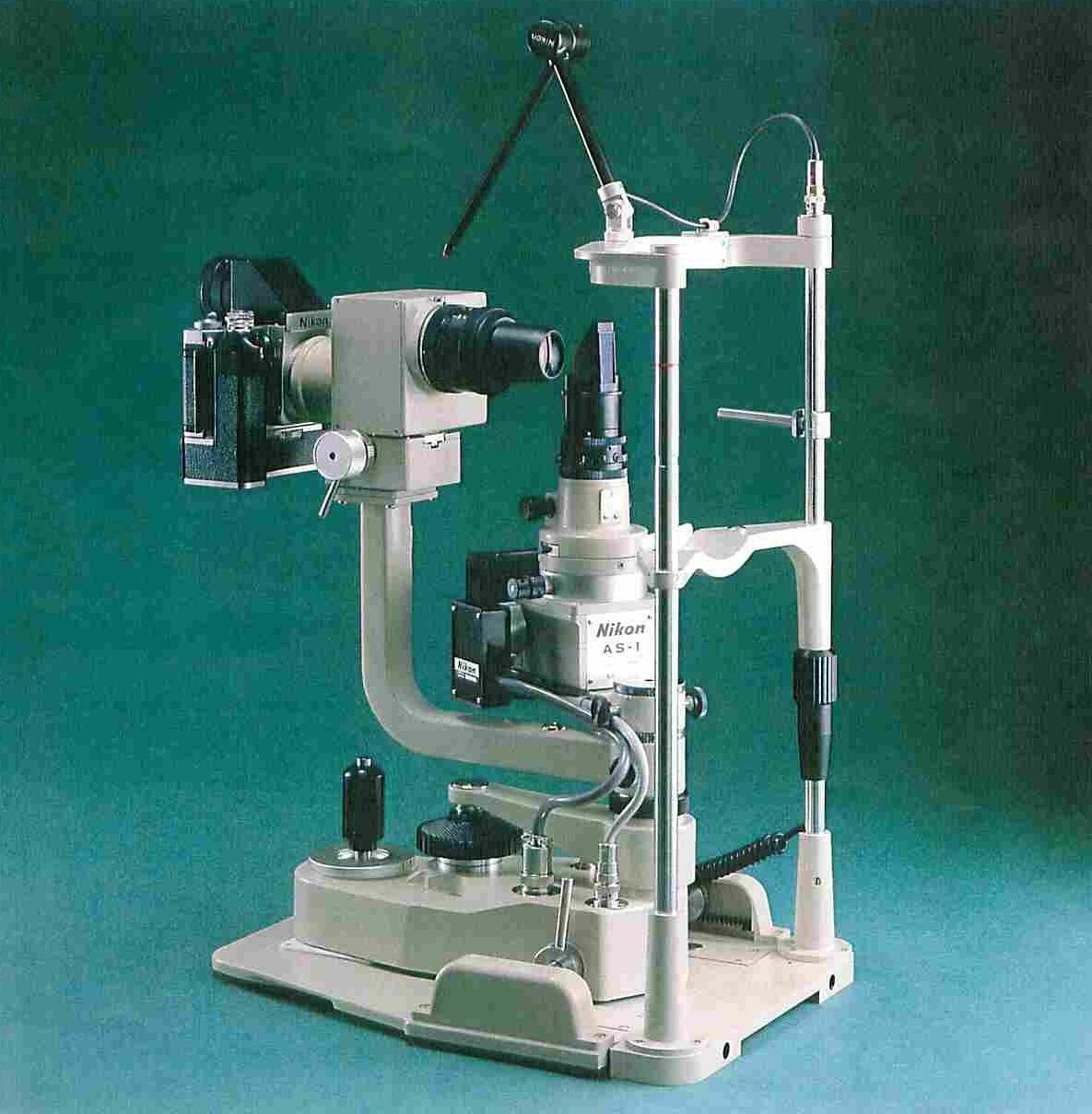 Nikon Ophthalmic Camera AS-1
Copyright (c) 1979, Nippon Kogaku K.K. All Rights Reserved.
Next Page Articles
→ Next Chapter 2 Nikon Ophthalmic Camera AS-1 Lenses
Shortcuts Here
Chapter 1 Nikon Ophthalmic Camera AS-1
Chapter 2 Nikon Ophthalmic Camera AS-1 Lenses
Chapter 3 Nikon Ophthalmic Camera AS-1 Photos
Chapter 4 Nikon AS-1 Martin Collection
Back to RED BOOK NIKKOR
---
Copyright Michio Akiyama, Tokyo Japan 2020, 2021