MACRO Nikkor 35mm F4.5 and Bellows Set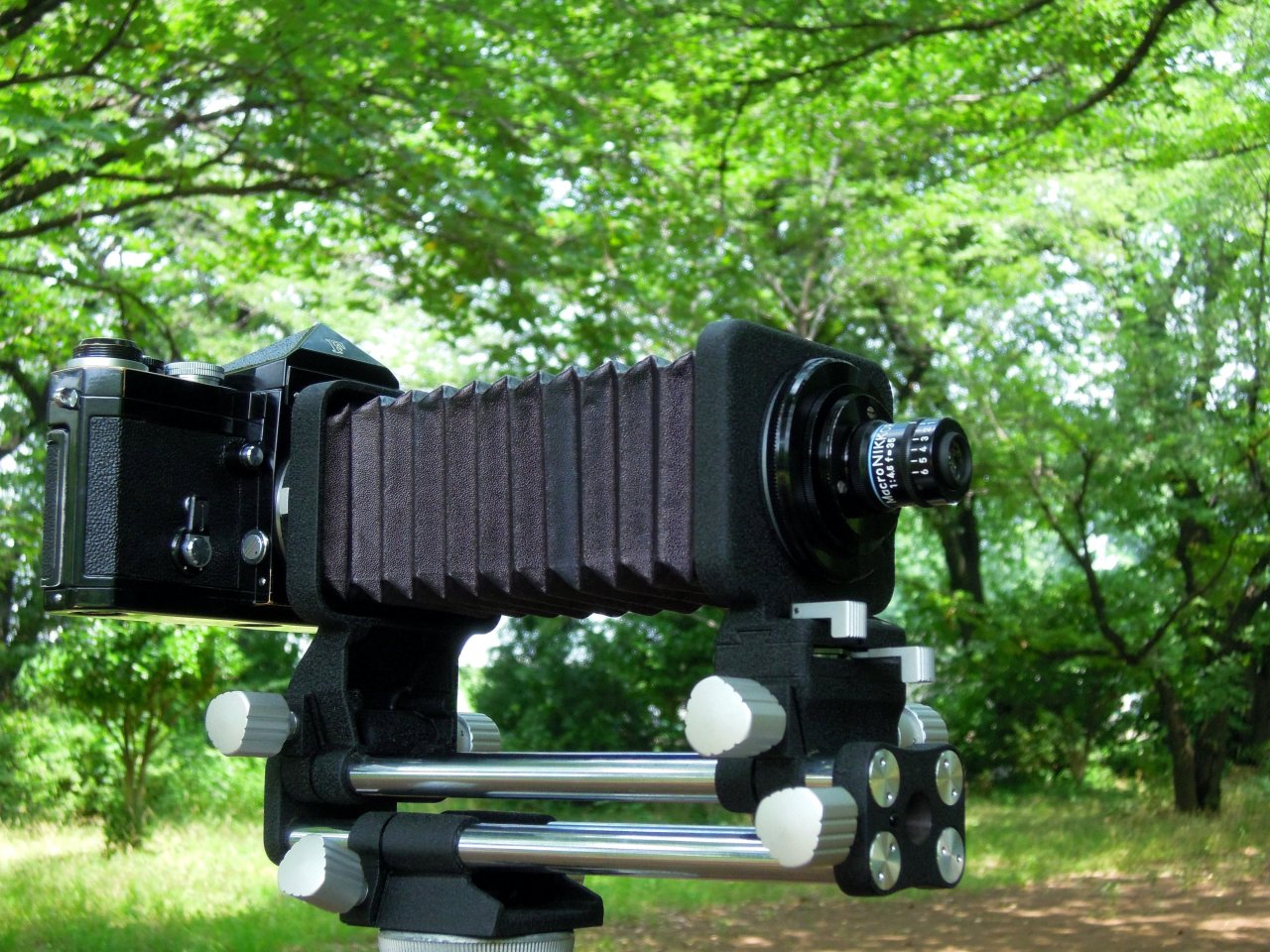 MACRO Nikkor 35mm F4.5 and Nikon Bellows PB-4
Summer Vacation
Boy's Life
The MACRO NIKKOR 35mm F4.5
Powered by Bellows PB-4
For Scientific Photographer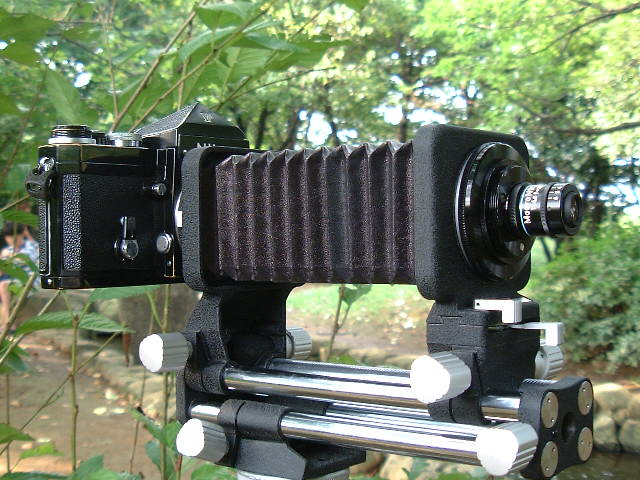 Bellows Set PB-4 and MACRO Nikkor 35mm F4.5
August 2001
Special MACRO Lens of MULTIPHOT System
The MACRO Nikkor 35mm F4.5 was mounted on a bellows unit BR-4 and Nikon F camera. One of the rare lenses for the Nikon MULTIPHOT system. Nippon Kogaku made a special adapter-ring called "microscope objectives adapter" to be used on a bellows unit.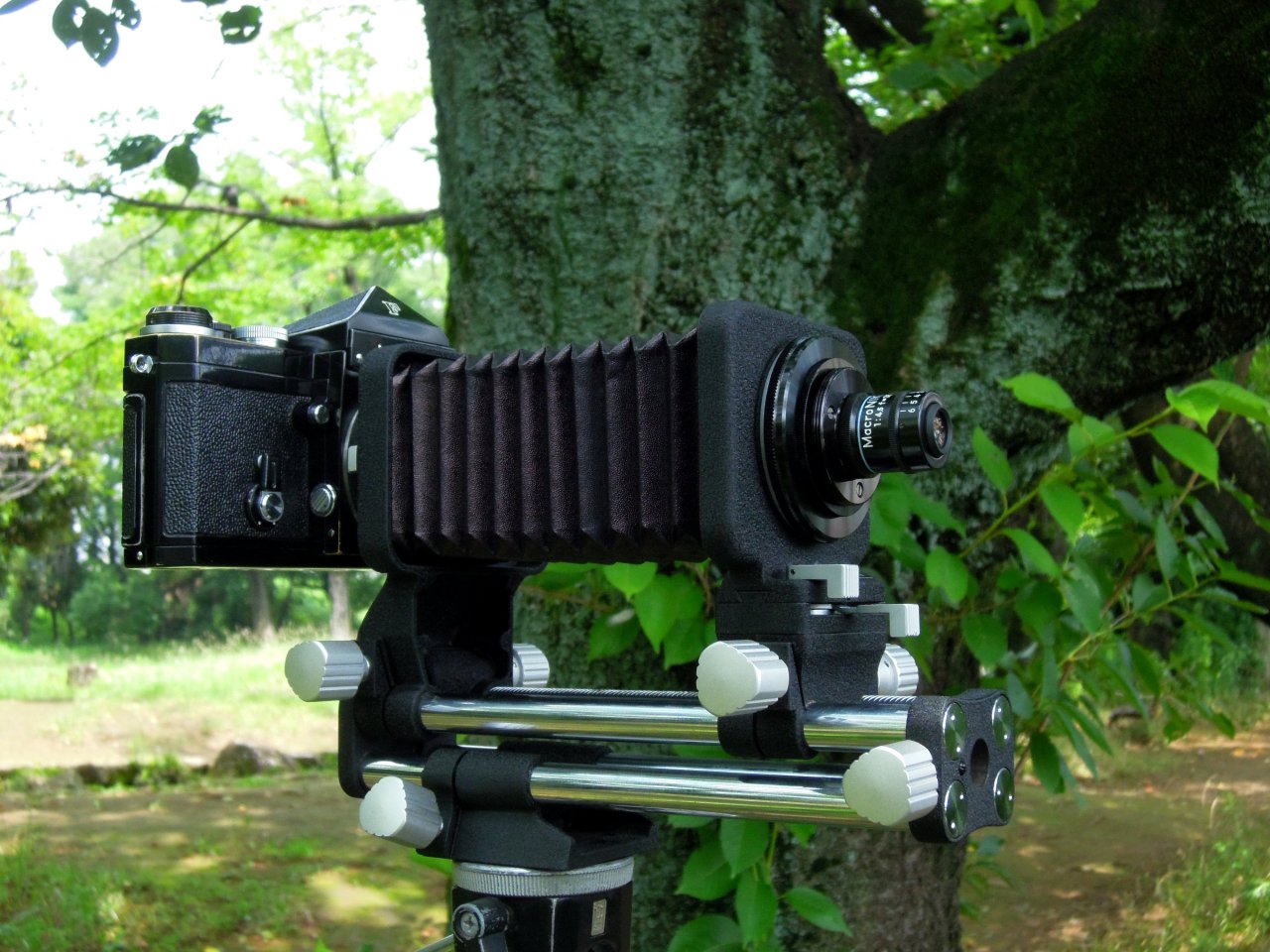 Special MACRO Lens of MULTIPHOT System
Specifications
MACRO Nikkor 35mm F4.5
Focal length : 35 mm
Line color of lens barrel : Light blue
Max. aperture : f/4.5
Aperture scale : 1, 2, 3, 4, 5, 6
Standard magnification : 12X
Range of magnification ratio : 8X - 20X
Mount : RMS thread
Actual weight : 62.0 g
Accessories : Microscope objective case and cap
Release date : 1968
Price :
20,000 Japanese YEN (January 1973)
26,000 Japanese YEN (December 1973)
46,000 Japanese YEN (1979)
58,000 Japanese YEN (1980)
64,000 Japanese YEN (1993)
Watermelon in Summer and MACRO Nikkor 35mm F4.5
The MACRO Nikkor 35mm F4.5 is hard to find, and an unused lens is very difficult. However, if you mount this super lens on your Nikon camera, you can feel the summer dream when you were a boy or a girl.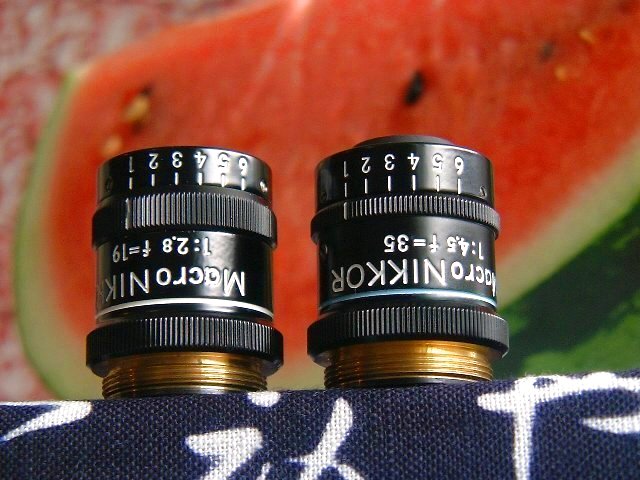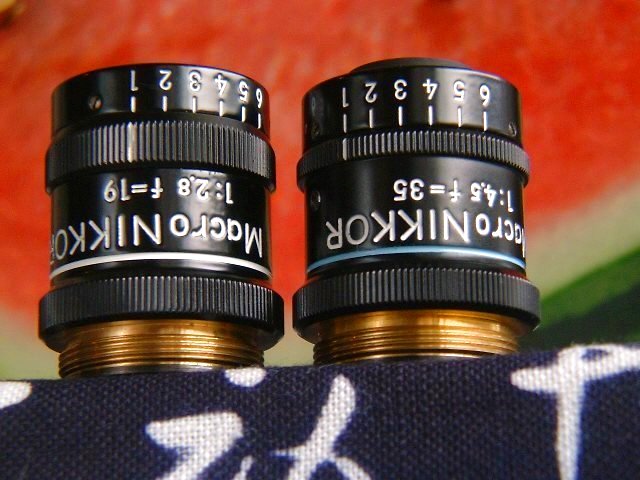 MACRO Nikkor 19mm F2.8 and MACRO Nikkor 35mm F4.5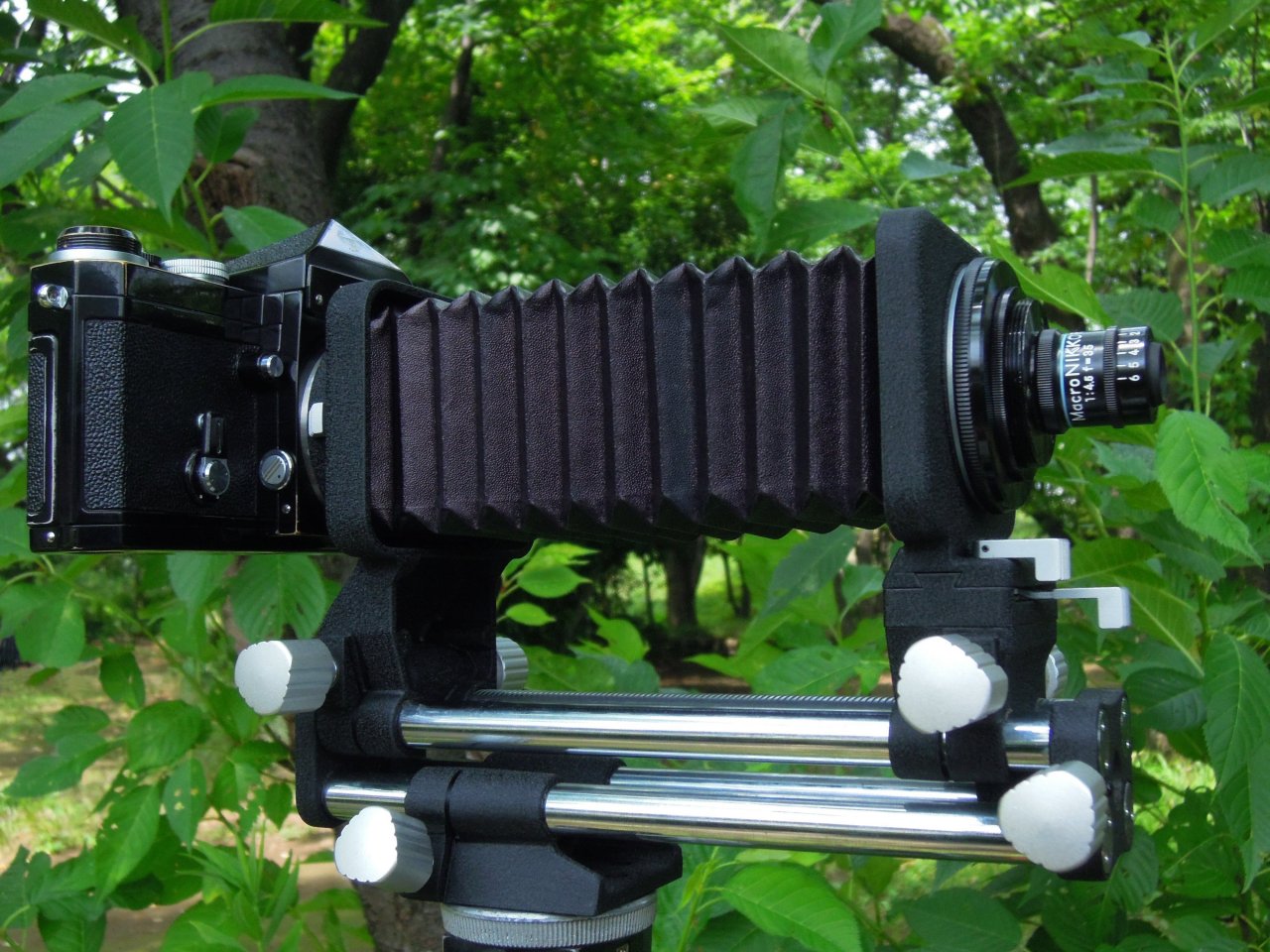 Summer Place and MACRO Nikkor 35mm F4.5 with Nikon Bellows PB-4
MACRO Nikkor 35mm F4.5 and Mirrorless Camera
A mirrorless camera with a short flange focal distance allows easy shooting. This picture shows that the mirrorless camera with the MACRO Nikkor 35mm F4.5 lens mounted. This camera is in focus.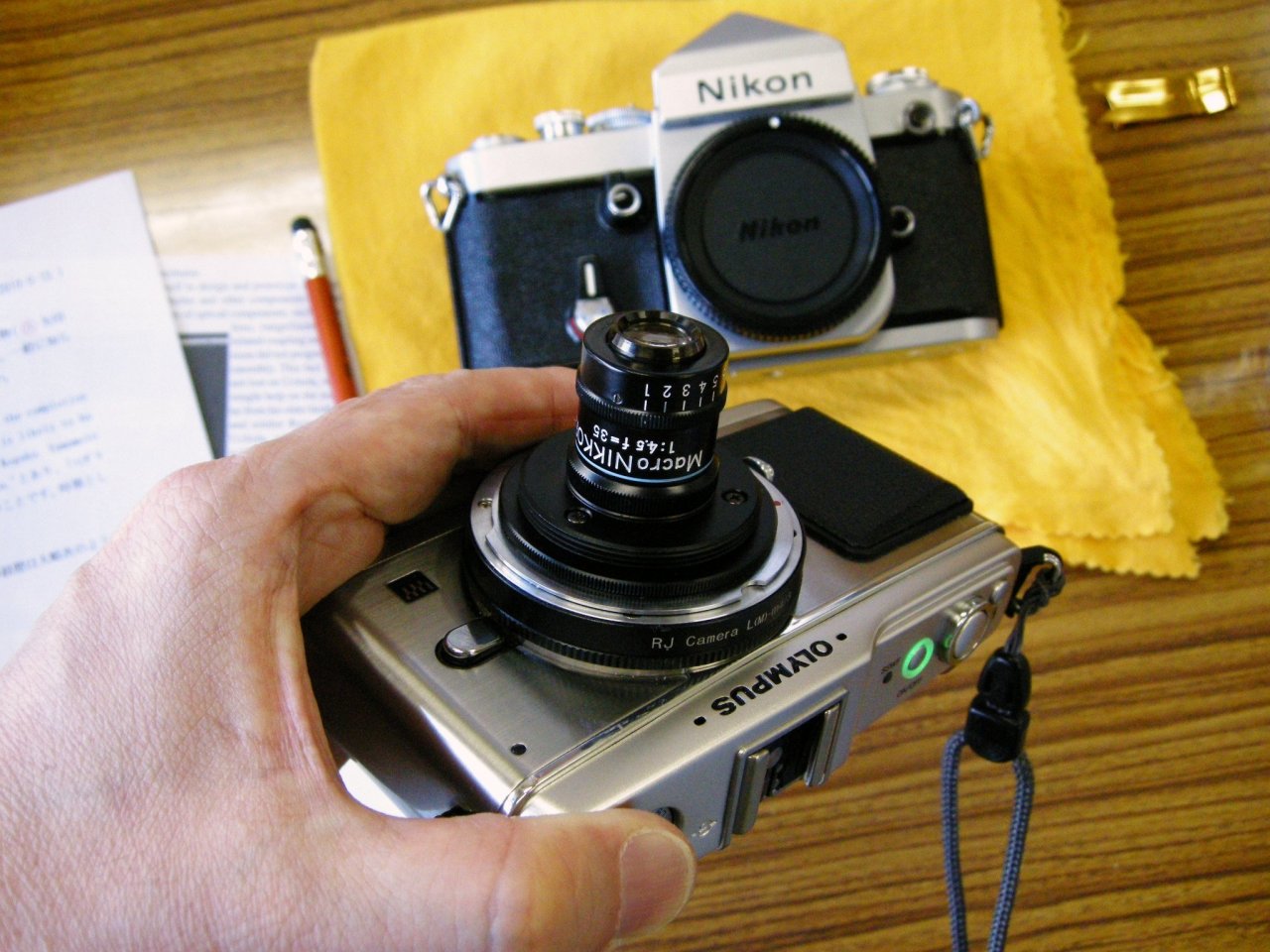 MACRO Nikkor 35mm F4.5 and Mirrorless Camera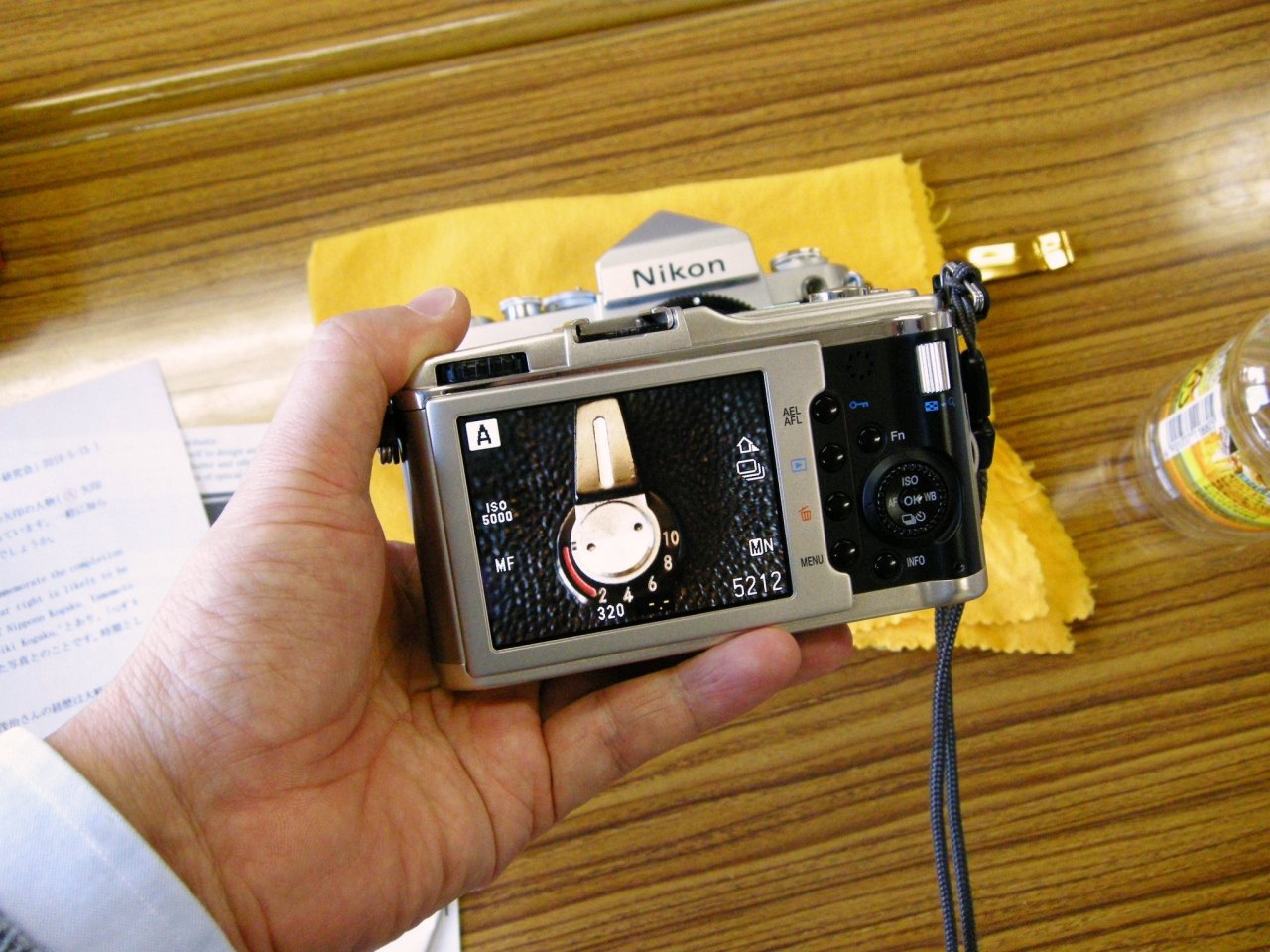 It is in Focus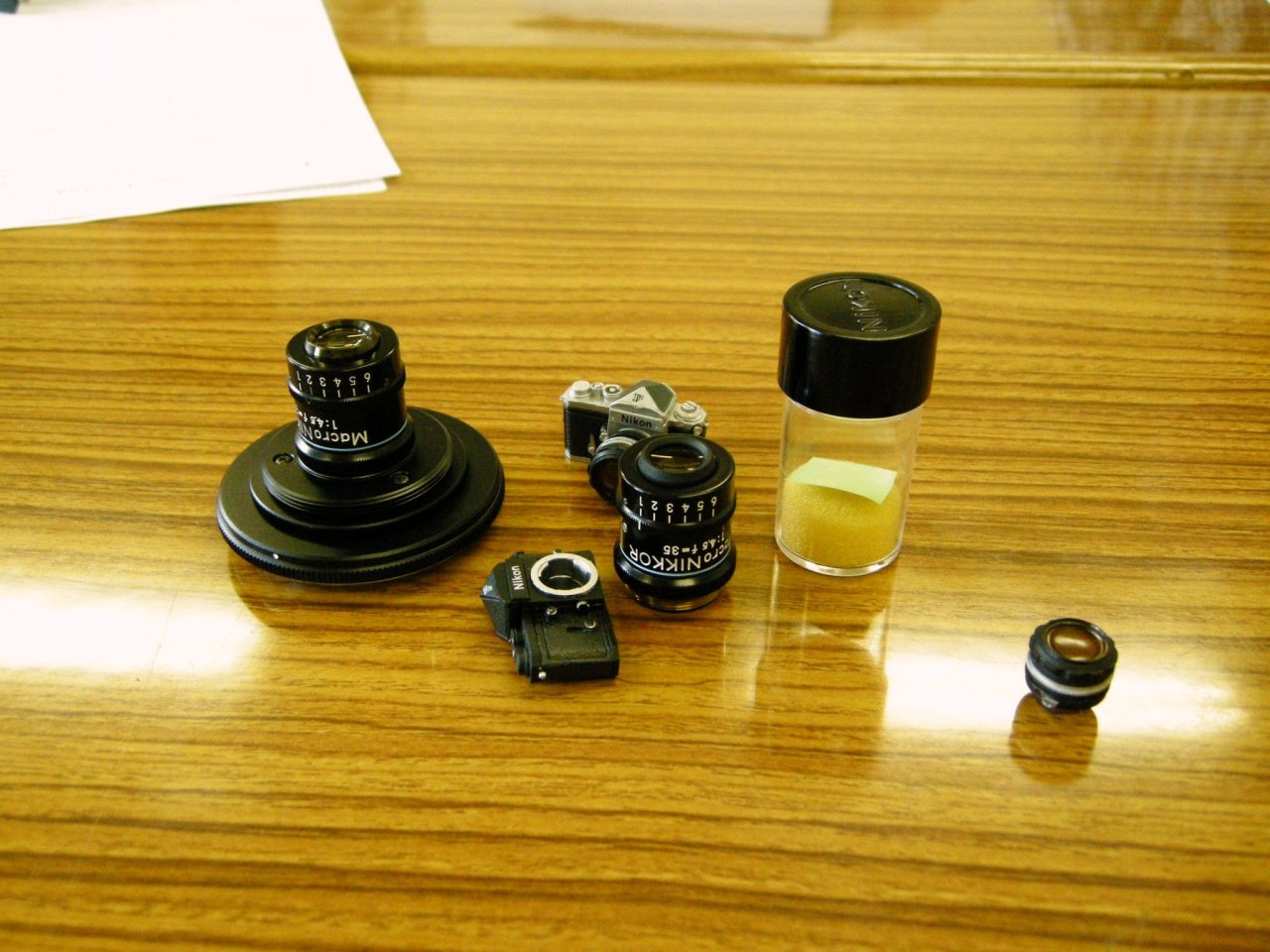 This Lens Even Looks Like a Toy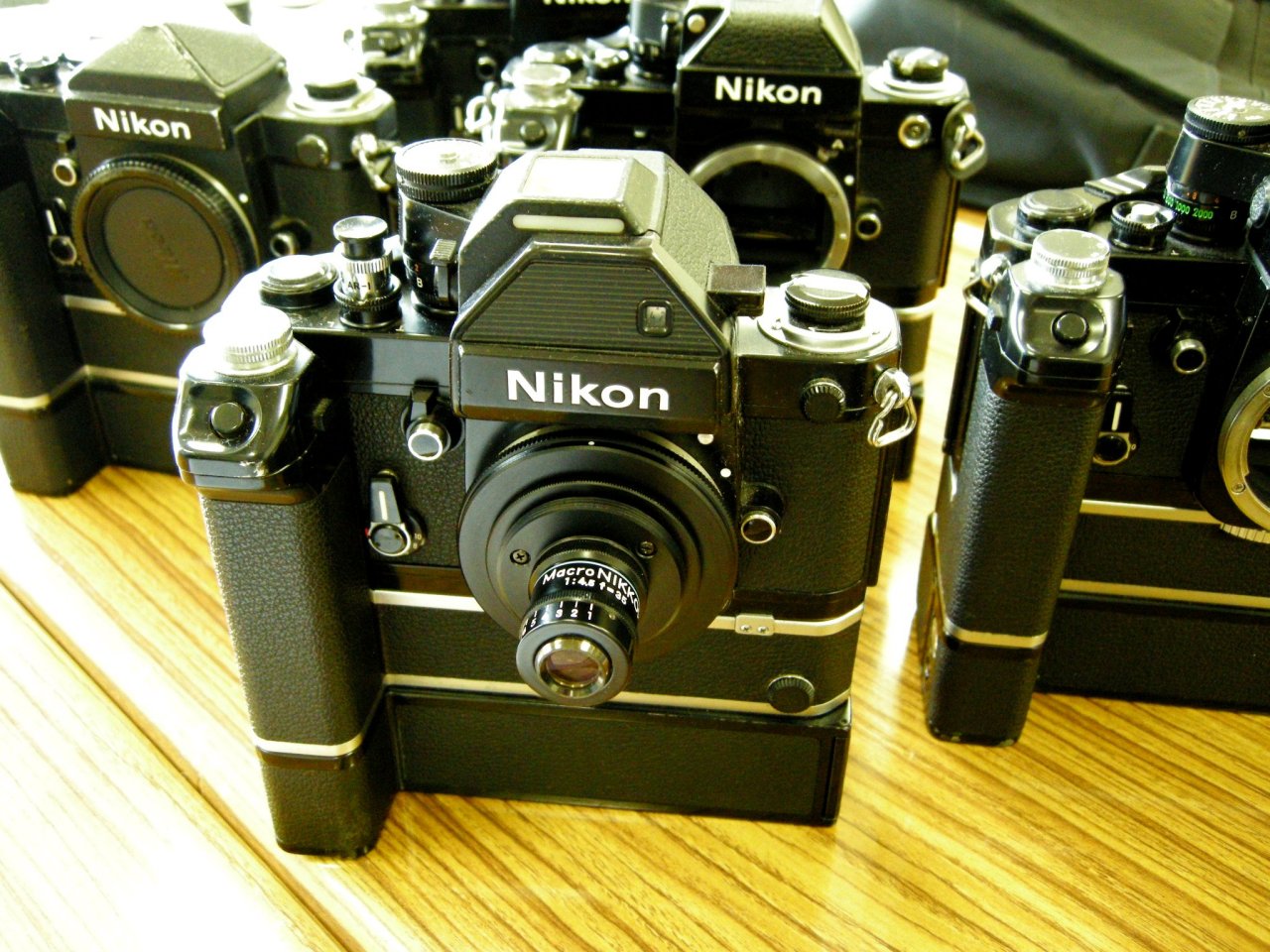 Nikon SLR Camera with Toy Lens
LENS MADE IN JAPAN
I put the lens on top of ancient documents. It has become art by itself. Macro Nikkor lens can be mounted on any camera via a usual mount adapter. The Nikon Z camera is compatible with this type of scientific photographic lens and has a very good affinity. Good products do not decay. And you can continue to use it on the front line forever.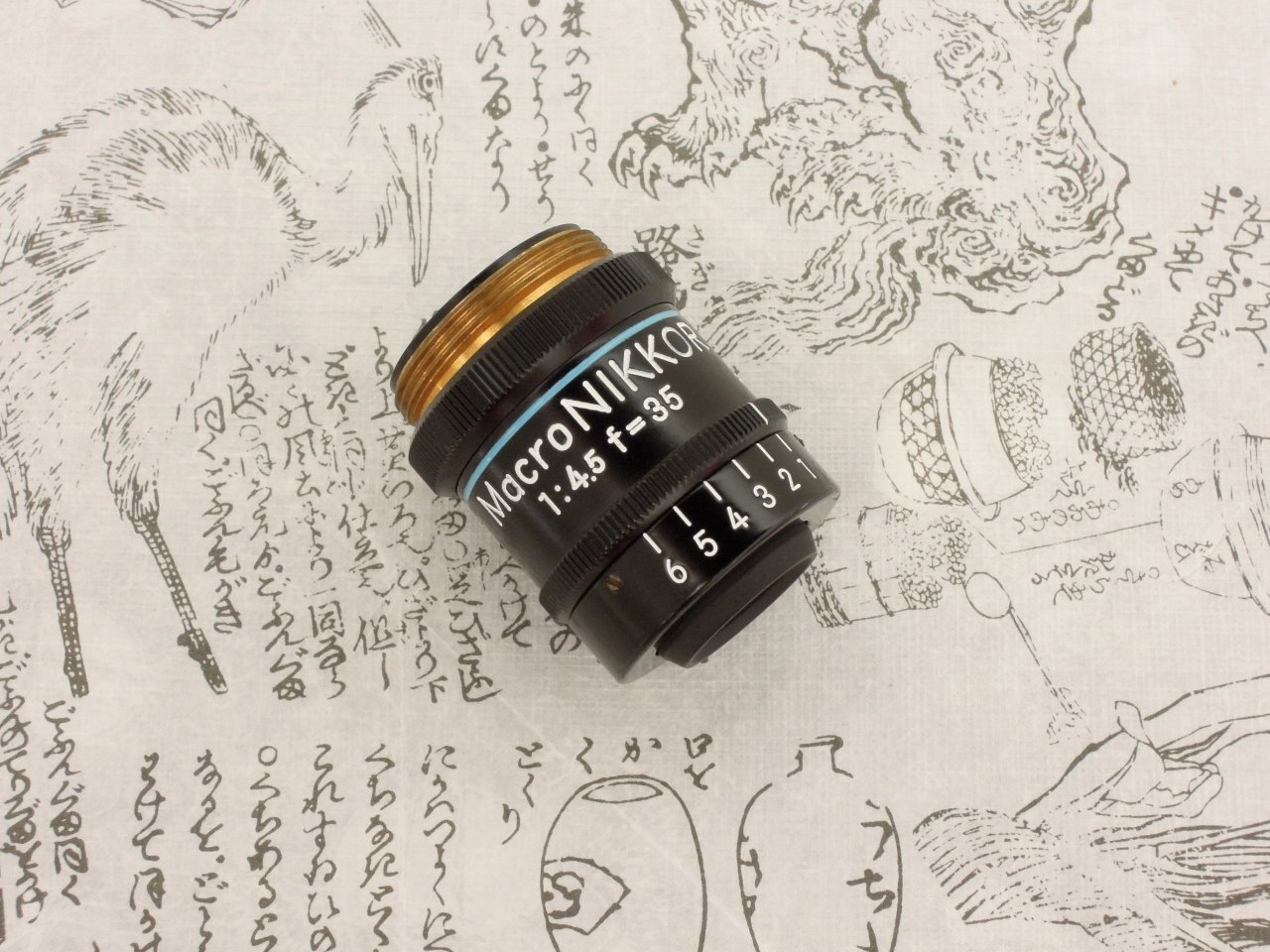 MACRO Nikkor 35mm F4.5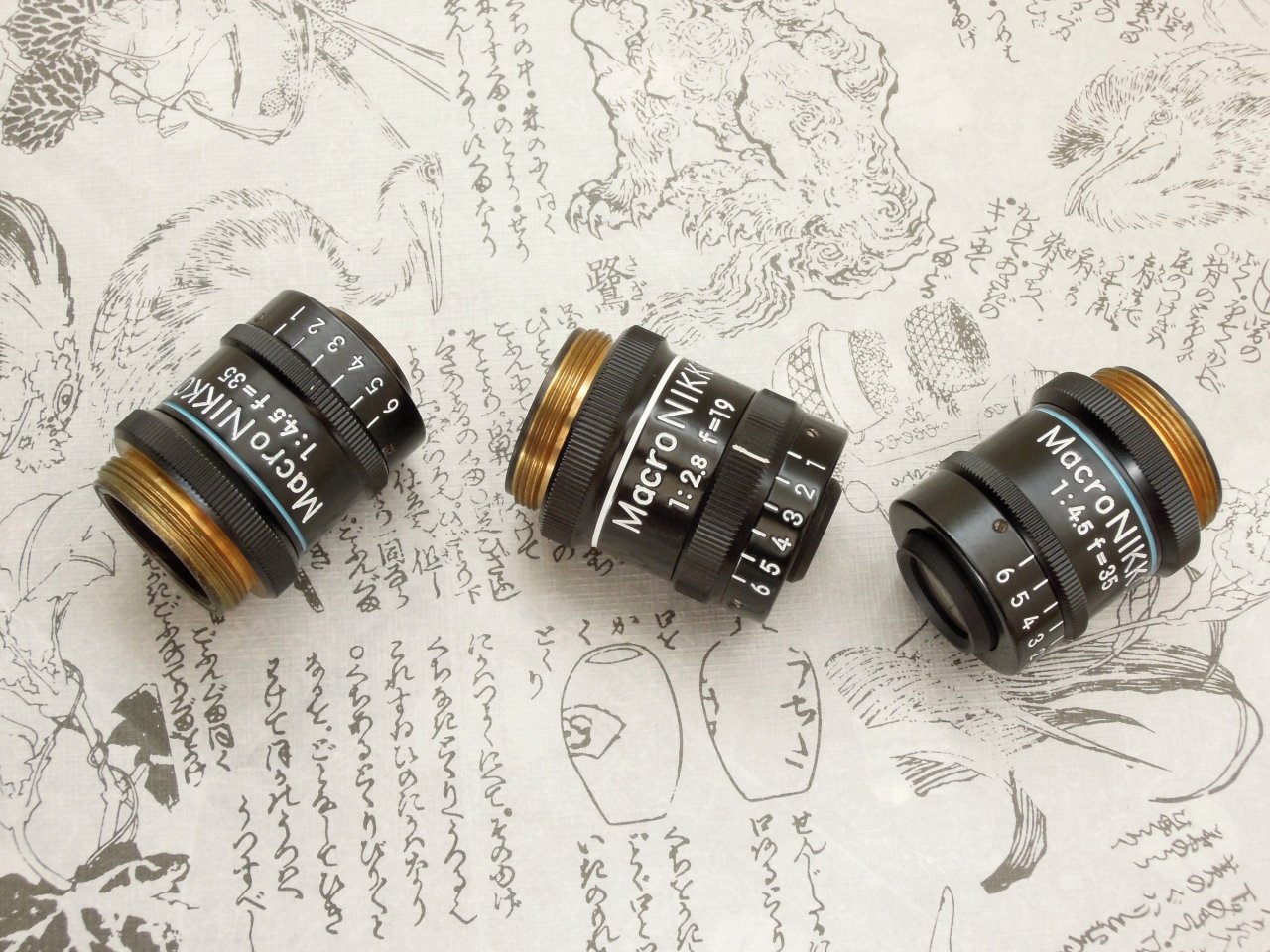 MACRO Nikkor Performance and Beauty
Back to RED BOOK NIKKOR
---
Copyright Michio Akiyama, Tokyo Japan 2001, 2021