Gallery and Collection, Super Nikon Fans Social Club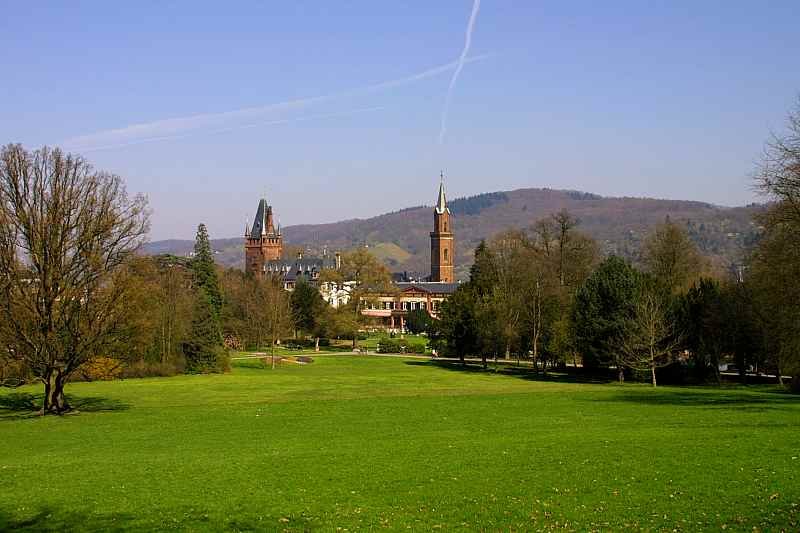 German Gently Landsape in Weinheim
Photo: Copyright (c) 2003, Dr. Klaus Schmitt, All Rights Reserved.
Gently Science Heart
Dr. Schmitt-san's Fine Work with Supreme Macro Nikkor
from Beautiful Weinheim
From Weinheim
I would like to introduce Dr. Klaus D. Schmitt to you. He is a great collector with the world highend macro lenses. Also, he is exploring the deep sea of super high resolution Nikkor lenses. However, he is not only a collector but also a photographer. There is a message from him as follows.
Dear Akiyama-san,

Your site is such a pleasure for me!
It really feels the spirit of asian tradition like the art of making the Tachi/Wakizashis for the Samurai worriors.

Since my grandfather was a blacksmith, I really enjoyed the art of working with hot steel and bringing that into the wished form.  Am I right that your adoration for this special craftsmanship of the Nikon Kogaku engineers is like that?

I am an electrical engineer and also did my PhD in a similar field, controls of electrical high power/high voltage networks and later worked as a manager building international airport systems all over the world.  Since I am very close to buddhism, I really appreciate the spirit of asia very much.  This is what I feel behind your beautiful texts and pictures!

I am sending you some images of my home-town (I live very close to it, about 100 Meters or 300 feet).  Should you want to see my small collection of these lenses in a similar way just let me know - I will be glad to provide you with some images.

Thank you Akiyama-san for your wonderful work and appreciation of these wonderful pieces of lens-art,

Best Regards,
Health, Luck & Happiness for your live

Dr Klaus D. Schmitt

Weinheim, Germany

(close to Heidelberg)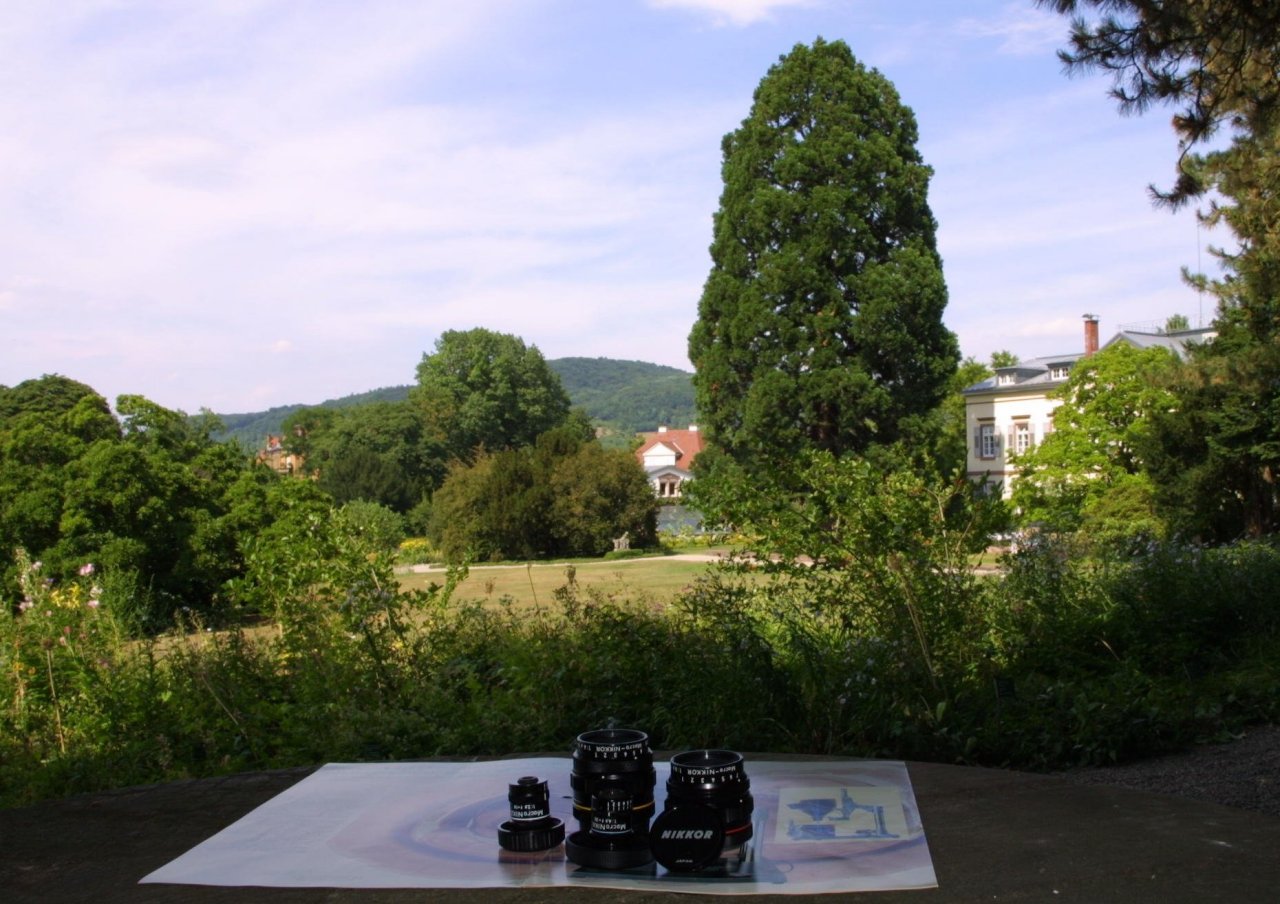 Picnic with Macro Nikkor Lenses
Photo: Copyright (c) 2003, Dr. Klaus Schmitt, All Rights Reserved.
My Way to the Macro Nikkors
Some months ago I got in contact with a lens collector who actually focused on macro lenses. I learned from him, that in the 70es Nikon produced a very fine photomacro system - the "Multiphot". I also heard about some special macro lenses I never had heard of before - the Macro Nikkors.
I looked around, talked to a lot of people and finally found some very fine pieces, also with the help of a very friendly Nikon engineer, who found one for me sitting around in some dark corner. Now I am the very proud owner of a complete set of Macro Nikkors and the results are spectacular!

Dr Klaus D. Schmitt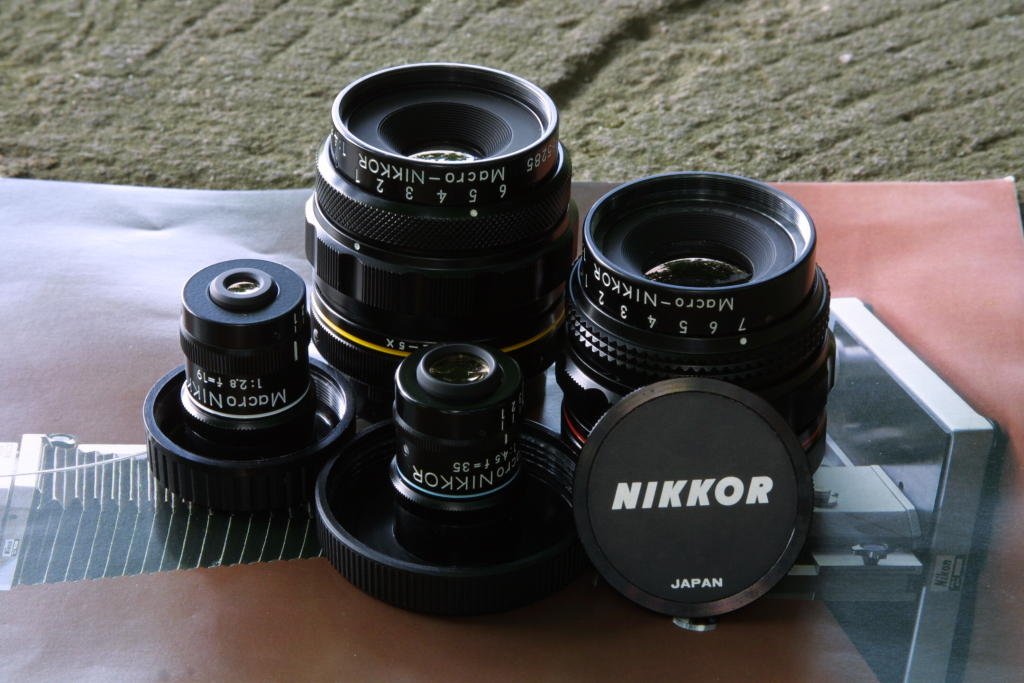 All Star of Supreme Macro Nikkor Lenses
Photo: Copyright (c) 2003, Dr. Klaus Schmitt, All Rights Reserved.
My Macro Nikkor "Work Horses"
My Macro Nikkors serve me as my "work horses" when I take images of some old macro lenses I collect as a hobby, to put them up on my internet site http://www.macrolenses.de/.
I also do lens cleaning from time to time, where some high magnification of lens surfaces are needed. Before, while and after that process, I monitor the results of that procedure taking high-resolution images of the lens surfaces with strong fiber optic side lighting.

Dr Klaus D. Schmitt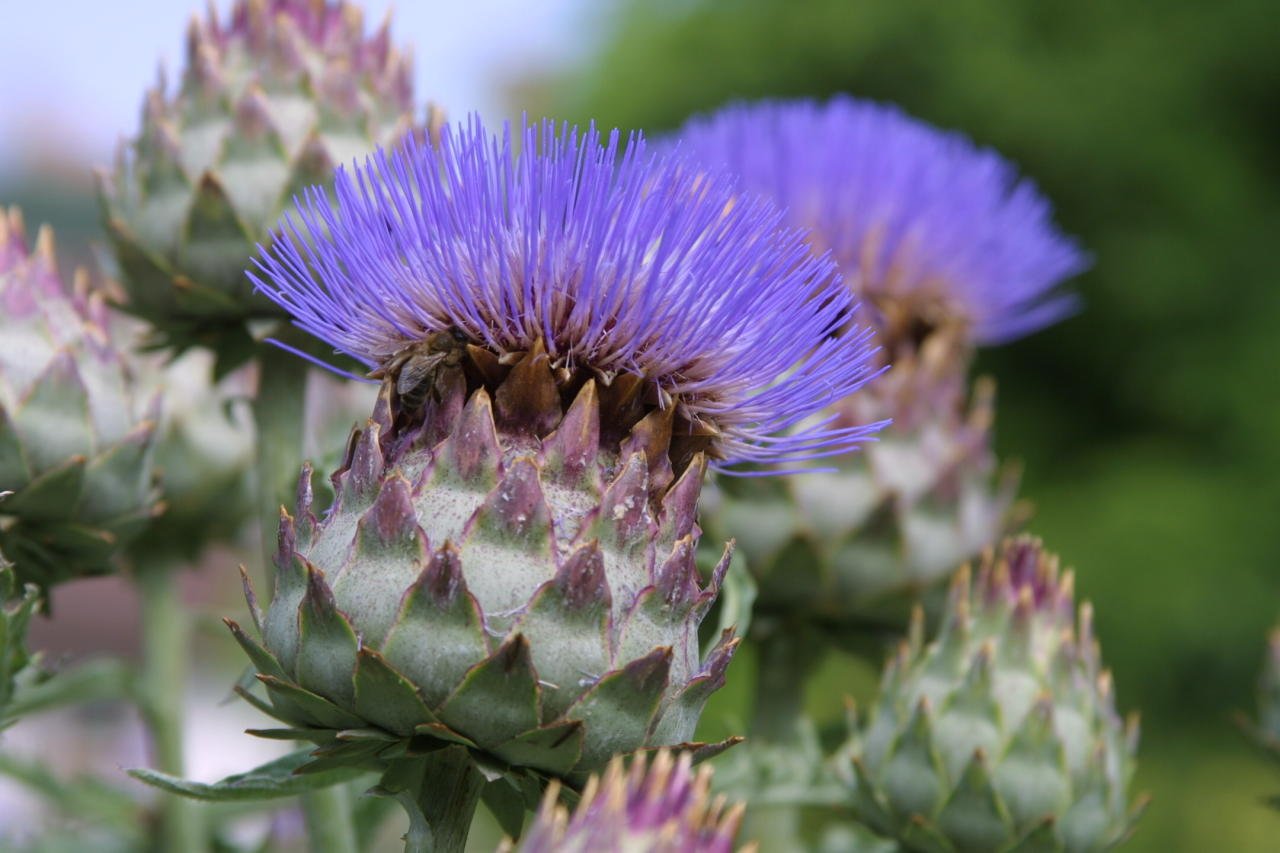 Macro Nikkor Meets the Sound of Flower
Photo: Copyright (c) Dr. Klaus Schmitt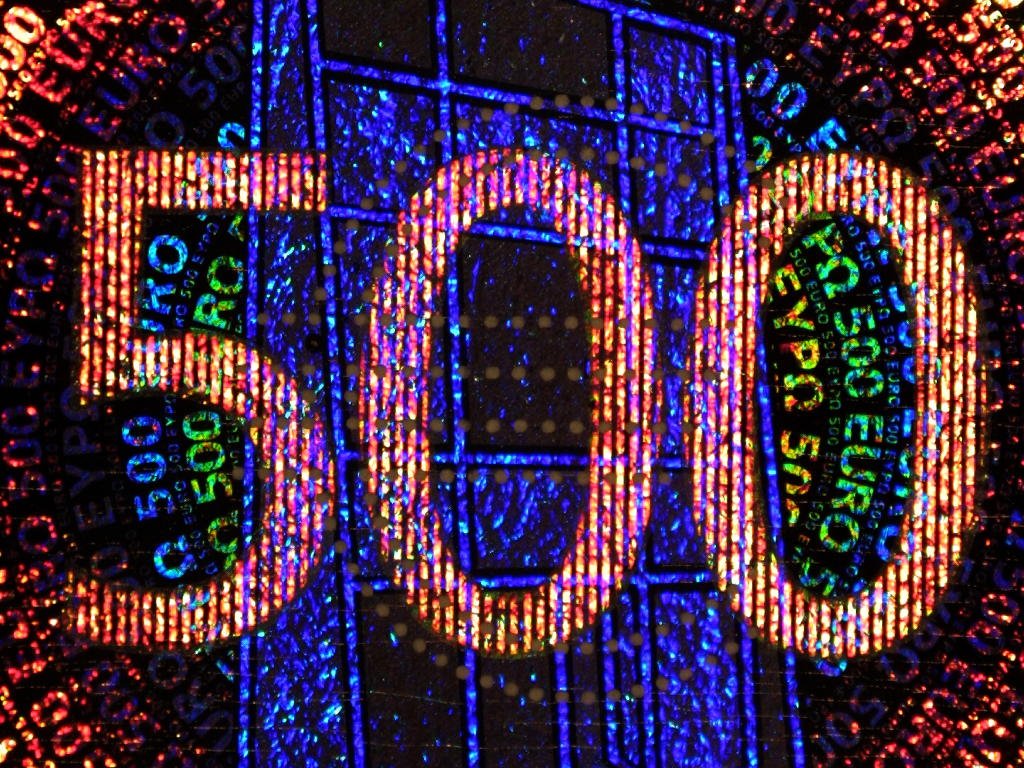 500 Euro Hologram
Photo: Copyright (c) Dr. Klaus Schmitt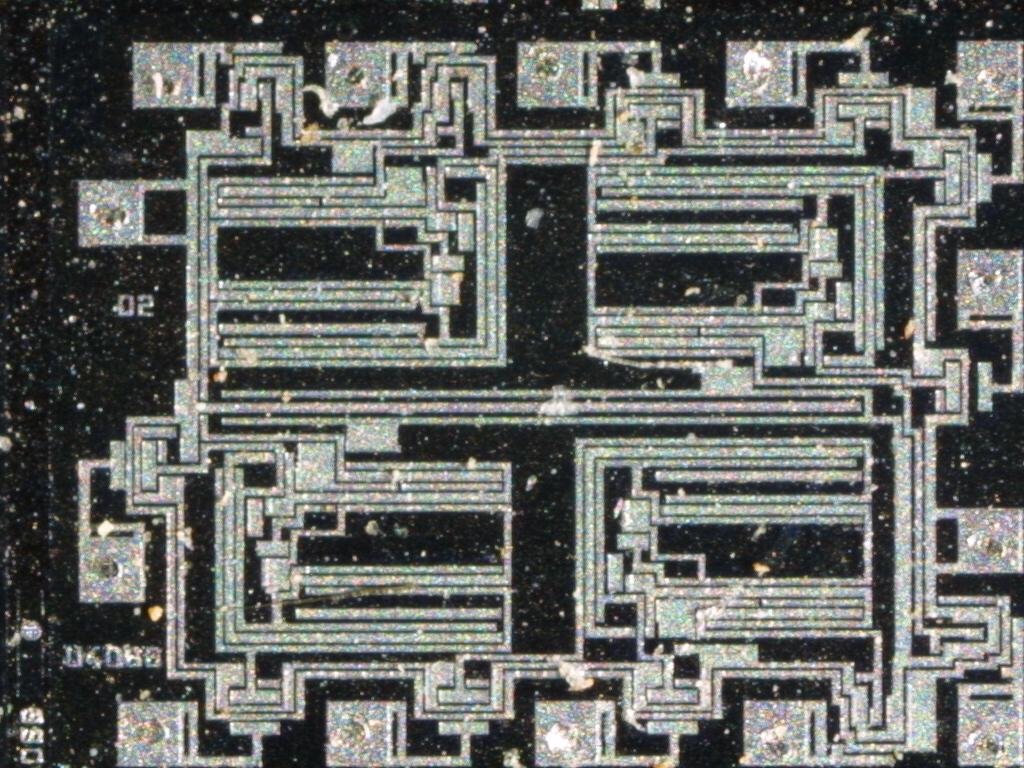 Macro Nikkor 35mm F4.5 Fine Work
Photo: Copyright (c) Dr. Klaus Schmitt
The Macro Lens Collection Database
A comprehensive and growing database & collection
of Macro Lenses and their technical data
The Macro Lens Collection Database
Why this site?
It has been born out of my hobby - to collect rare, old and specialized macro lenses and related equipment. Most of these lenses are no longer produced and - sadly - have disappeared from most photographers' or ambitioned amateurs' perception. But there is a small and - hopefully - growing number of enthusiasts, who not only remember the excellent optical quality of these lenses, but also use these lenses to produce images of very high quality.
This site is intended to bring together in as much informtion about these lenses, serve as a knowledge database about them and also as a living forum to share experiences between collectors and users. I invite you to a journey through the world of macrolenses!

Dr Klaus D. Schmitt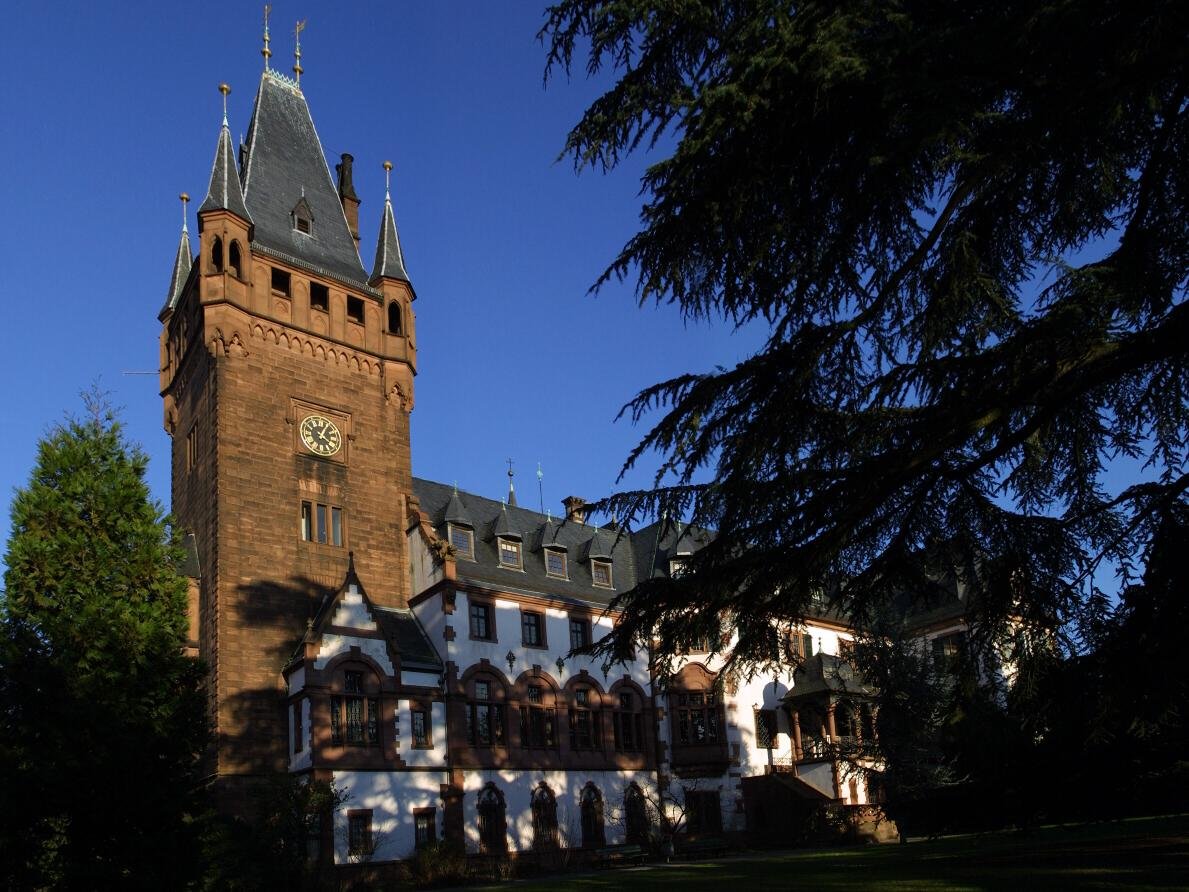 German Blue Sky
Photo: Copyright (c) Dr. Klaus Schmitt
Special thanks to Dr. Klaus D. Schmitt.
-------------------------
Photo Images and Text : Dr. Klaus D. Schmitt, Weinheim/Germany
Back to RED BOOK NIKKOR
---
Copyright Michio Akiyama, Tokyo Japan 2003, 2022