Christmas 2004, Nikon Kenkyukai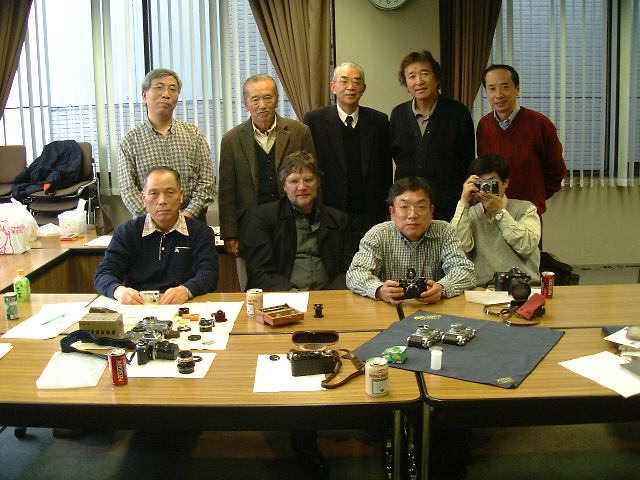 Christmas Meeting at JCII Camera Museum, Tokyo
December 18, 2004
Nikon Kenkyukai Tokyo Meeting
640F and Nikon I
Fantastic Workshop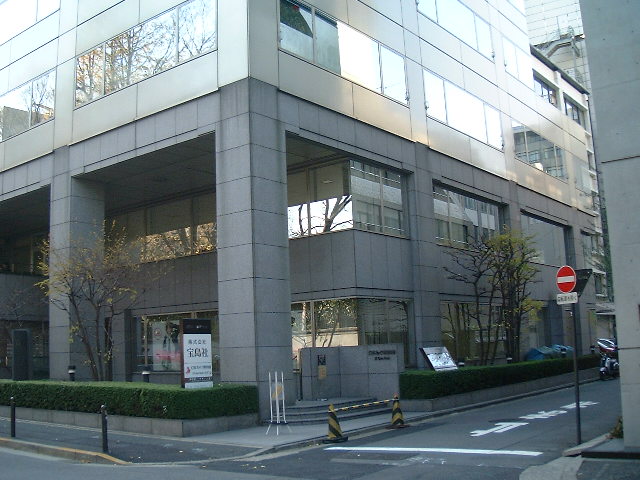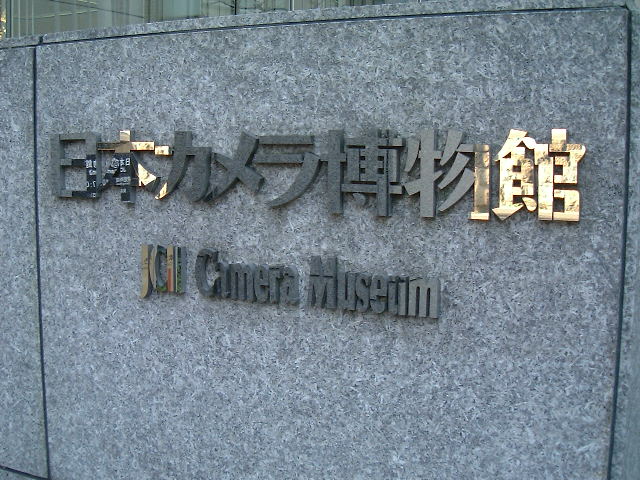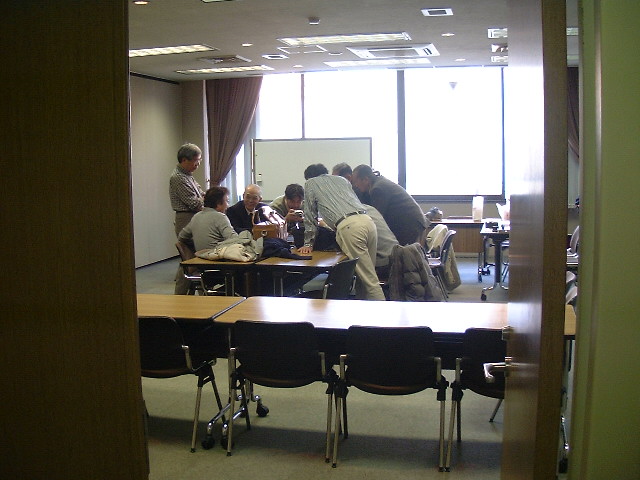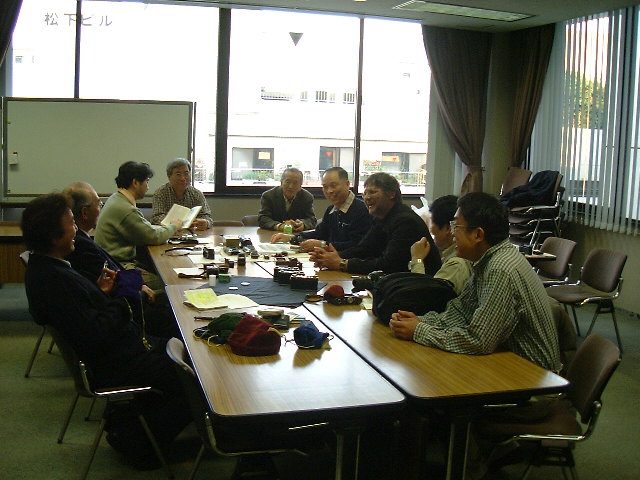 Meeting Room of JCII Camera Museum, Tokyo
Christmas Meeting
Season of Christmas. The Tokyo meeting was held in JCII Camera Museum near Ginza, Tokyo. The theme of the meeting was the special research of Nikon F by Akihiko Suzuki-san. And then, big event of the meeting was the Nikon I Show by Tad Sato-san. Peter Coeln-san joined the Tokyo meeting from Vienna to enjoy the big Nikon event. Here we go! Mr. Nikon F, Suzuki-san !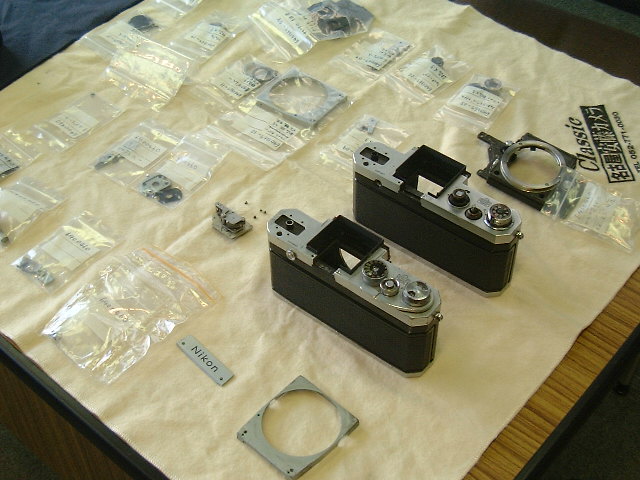 Nikon F parts full set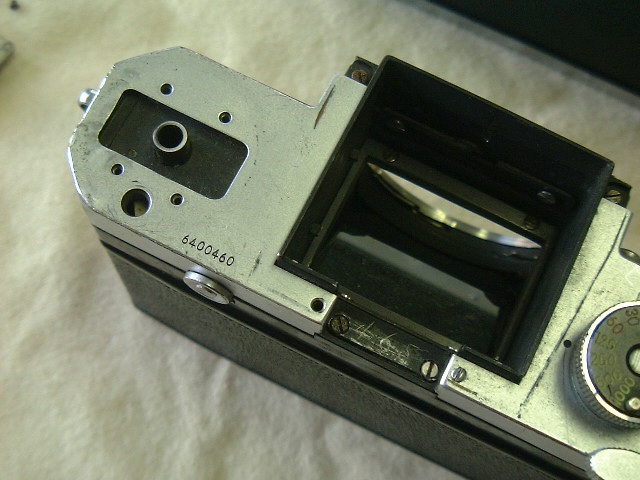 Top cover of Nikon F 6400460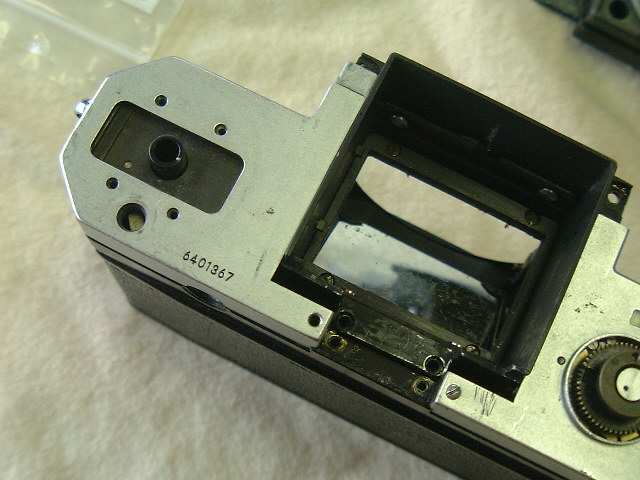 Top cover of Nikon F 6401367
Reserch of the Nikon F mirror housing box
We verified that early type of Nikon F has two springs in the mirror housing box. And then, latter type of Nikon F has one spring.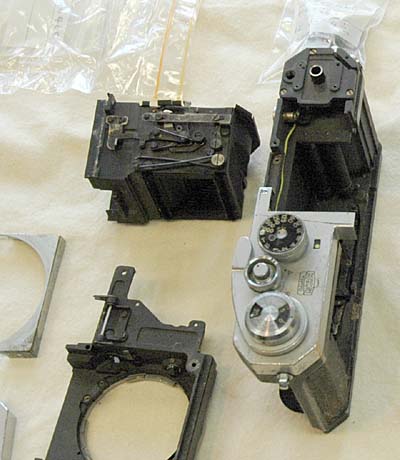 A mirror housing box was removed from the Nikon F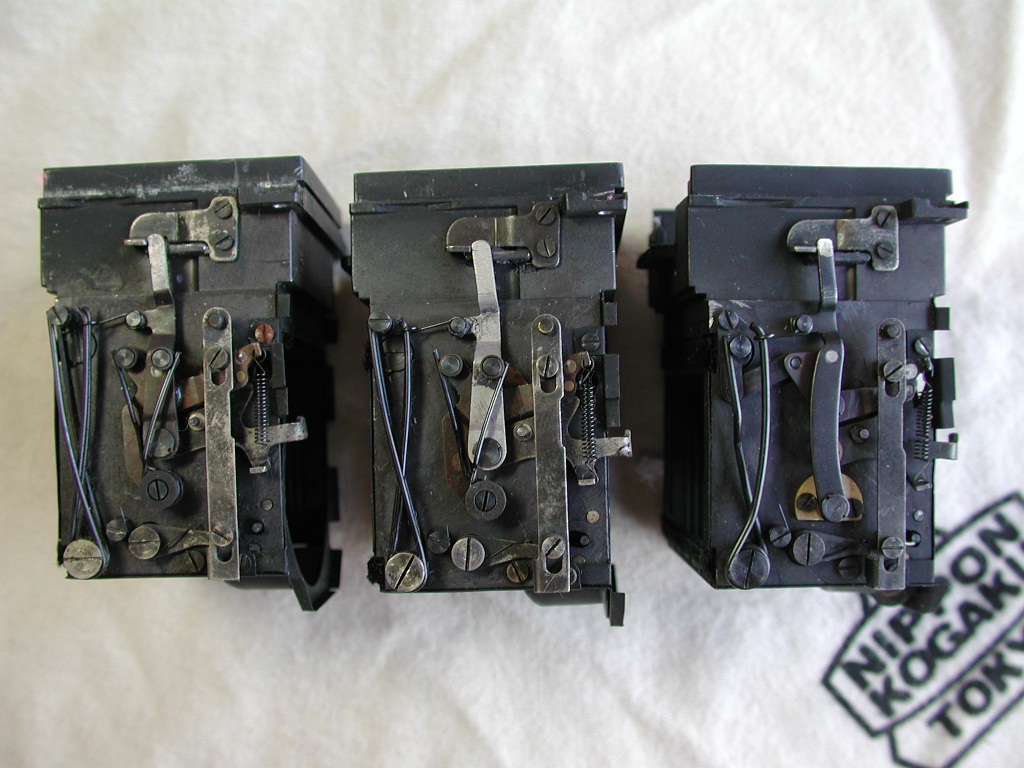 Left and center are two springs, right is one spring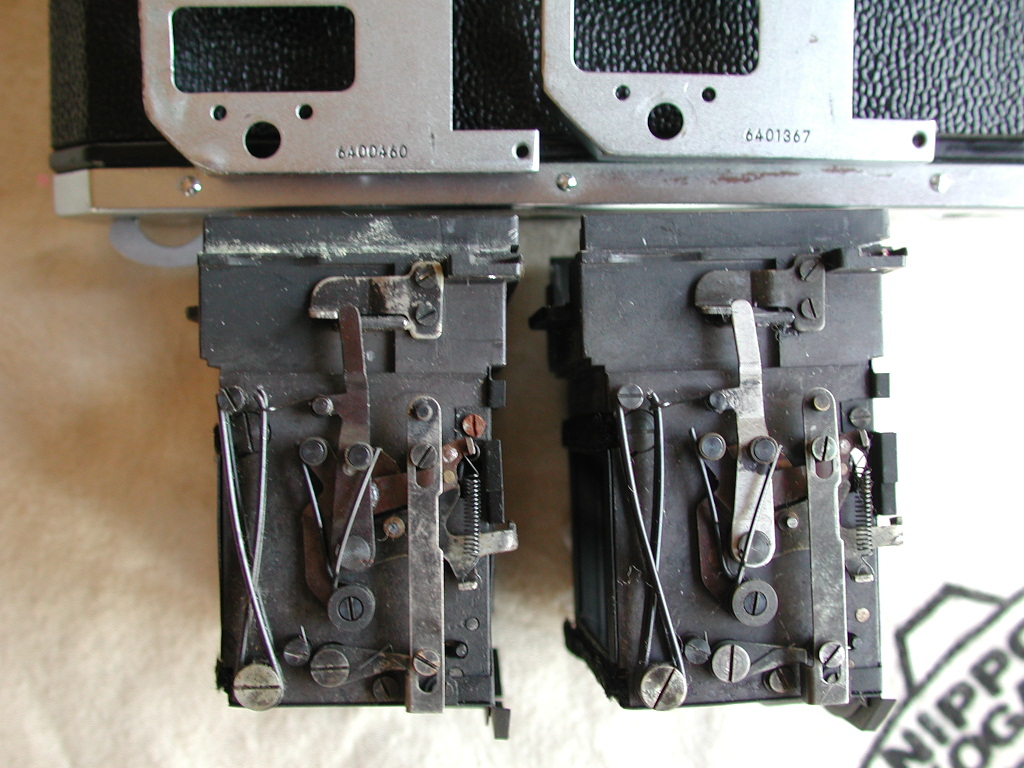 Early No. 6400460 and No. 6401367 have two springs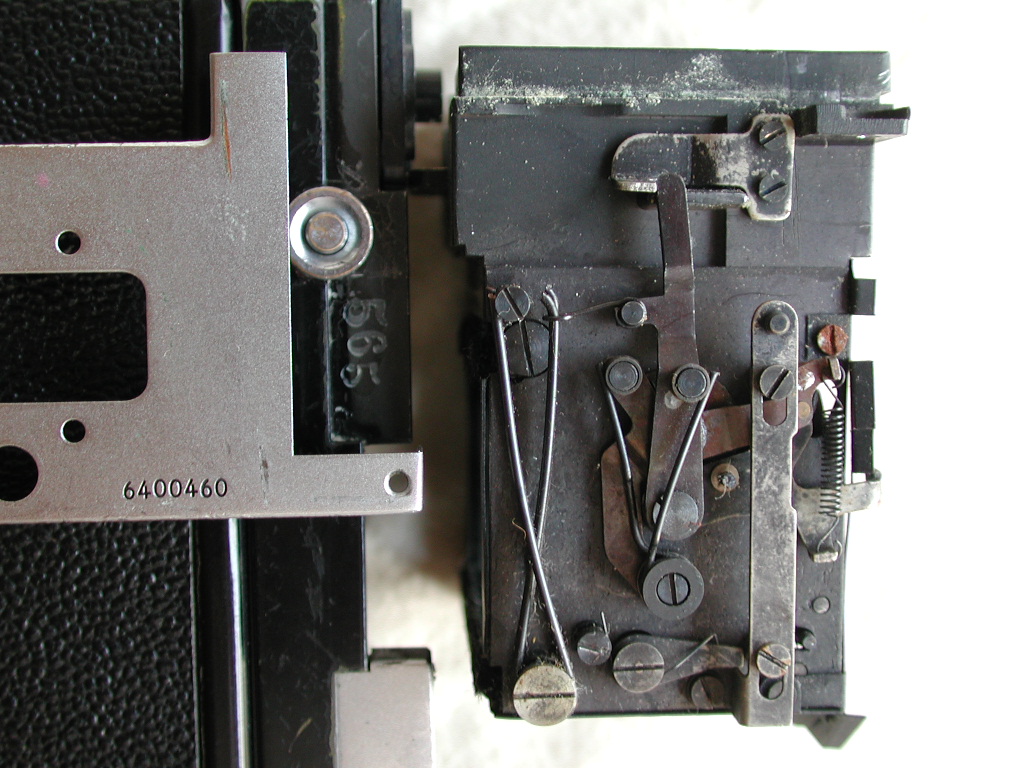 No. 6400460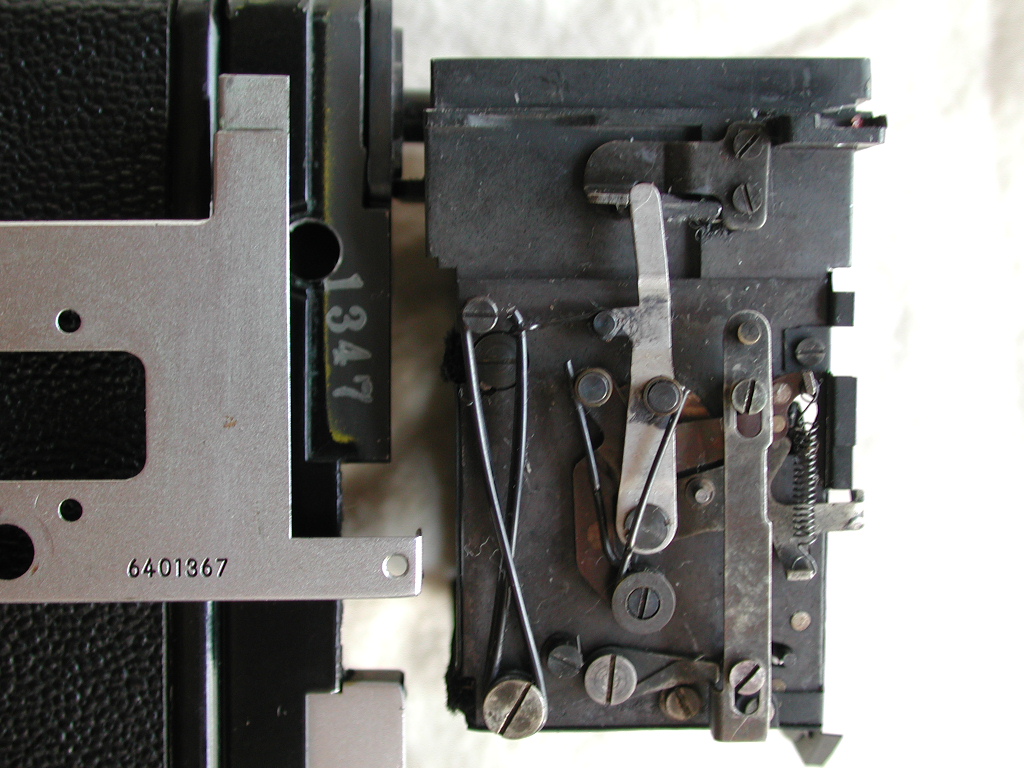 No. 6401367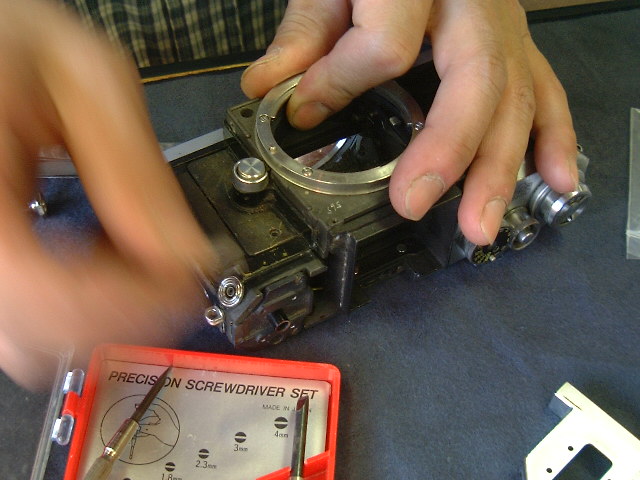 Assembly of Nikon F with god's hand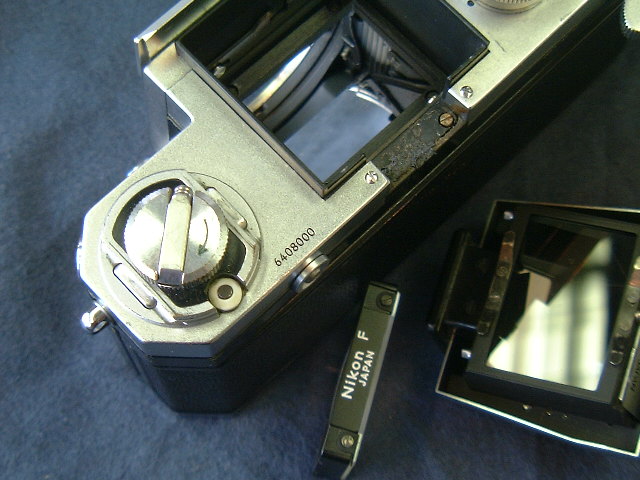 Just number No. 6408000 of Nikon F
Special Reserch of Nikon I
Tad Sato-san brought his super collection to brighten the Christmas meeting. He is a famous worldwide as Nippon Kogaku collector. He showed us three Nikon I cameras from his seven Nikon I cameras. All are very good condition and beautiful Nikon I cameras.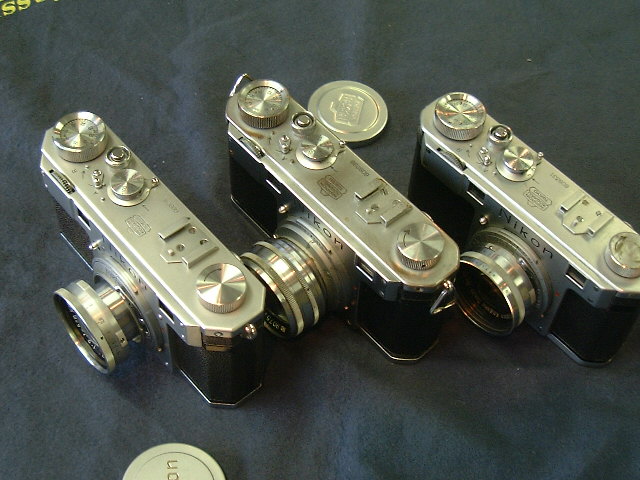 Simple Beautiful Nikon I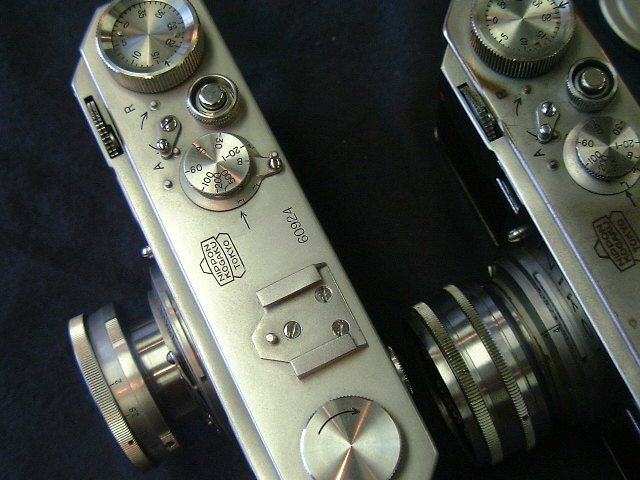 The first production of Nikon I No. 60924 !!!!!!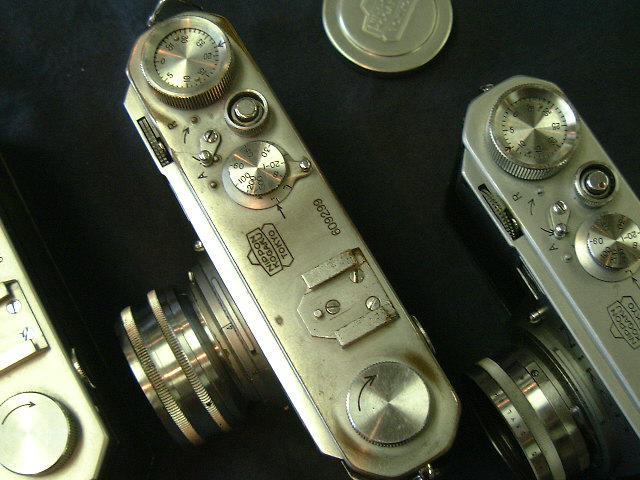 Very good working Nikon I No. 609299 !!!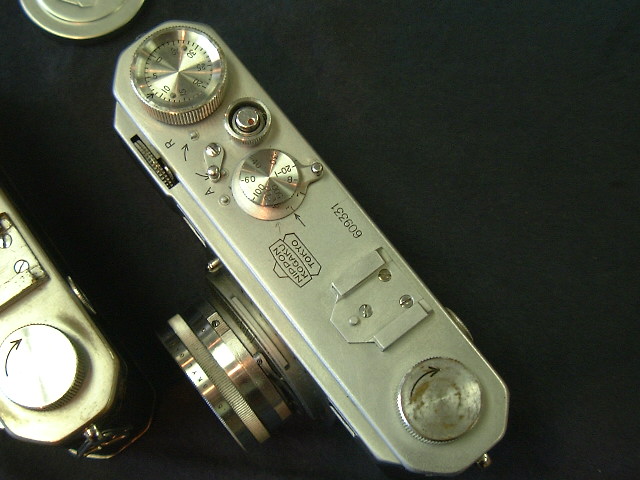 Red dot shutter release of Nikon I No. 609331 !!!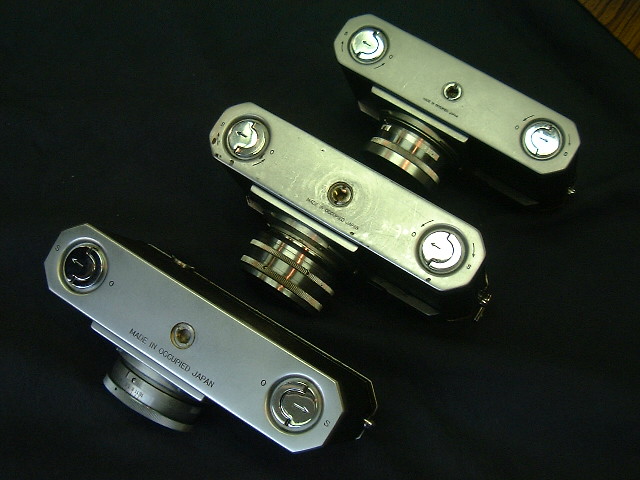 Size of MIOJ mark is different at manufactured time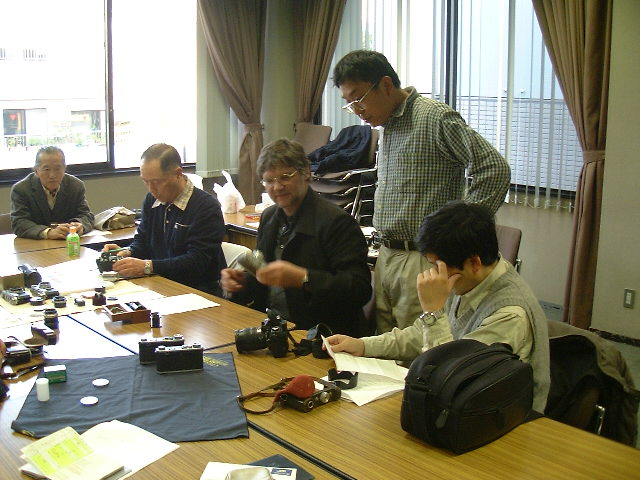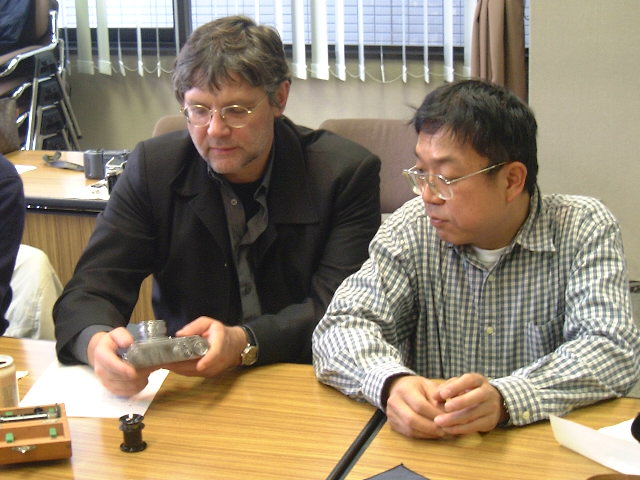 Peter Coeln-san and Akihiko Suzuki-san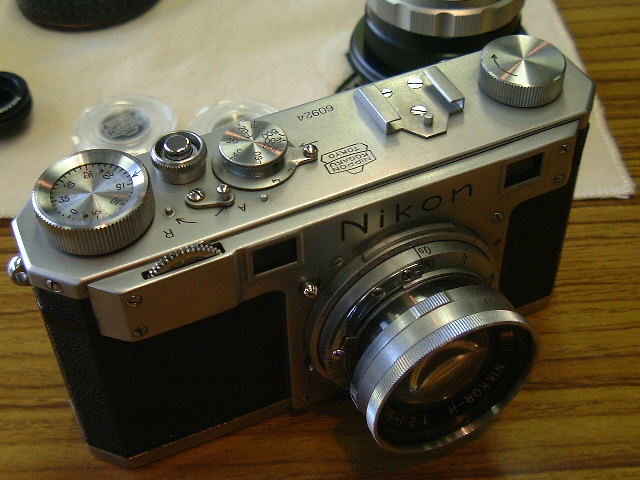 60924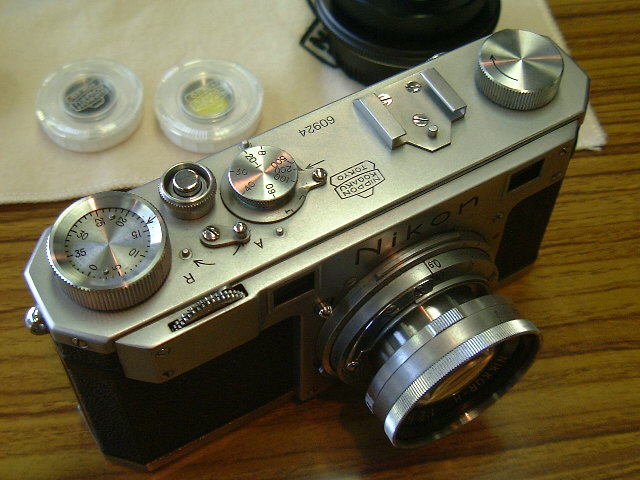 The Nikon Camera 60924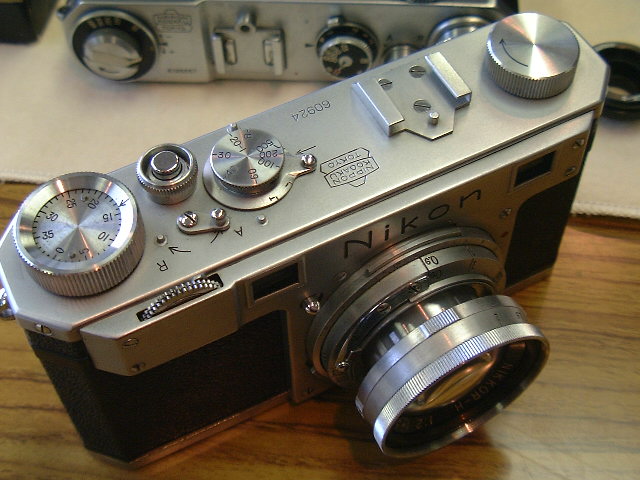 The most beautiful camera is Nikon I in history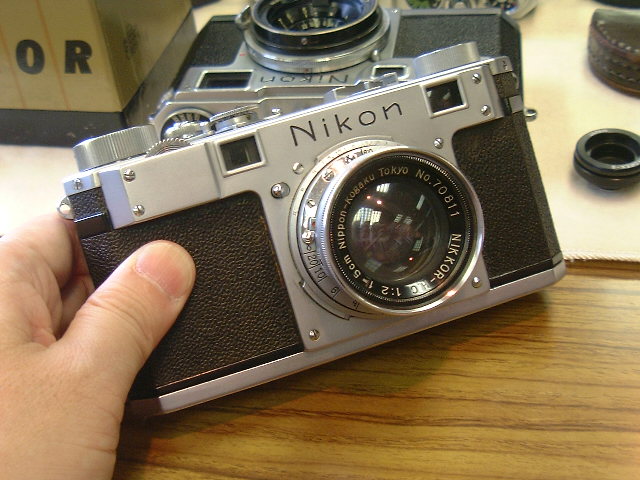 Nikkor 5cm F2 No. 70811 !!!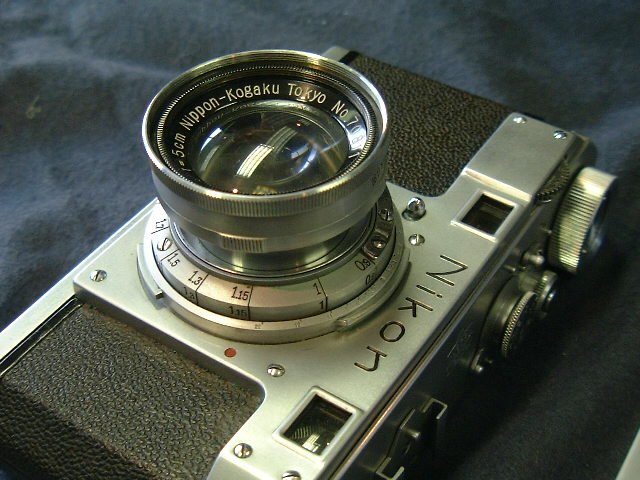 The first production model has meter engraving
W-Nikkor 2.5cm F4
This month's special is W-Nikkor 2.5cm F4. It is a high performance, beautiful, valuable lens. And then, it is an extremely compact wide angle lens. The W-Nikkor 2.5cm F4 has unique diaphragm and focusing mechanisms. The focusing is controlled by the wheel on the rangefinder Nikon camera. Please enjoy beautiful lenses.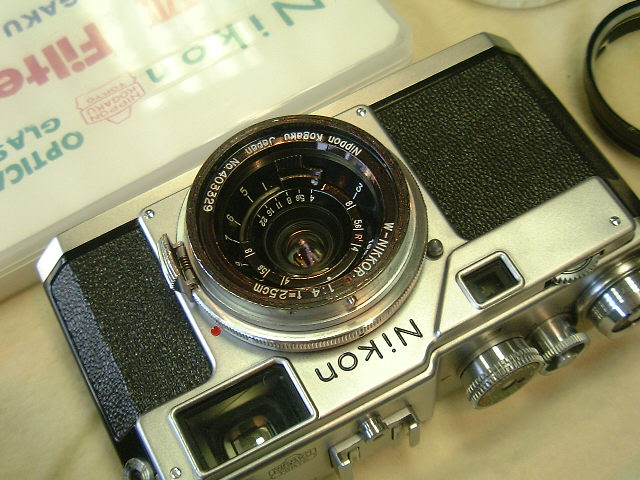 W-Nikkor 2.5cm F4 No. 403329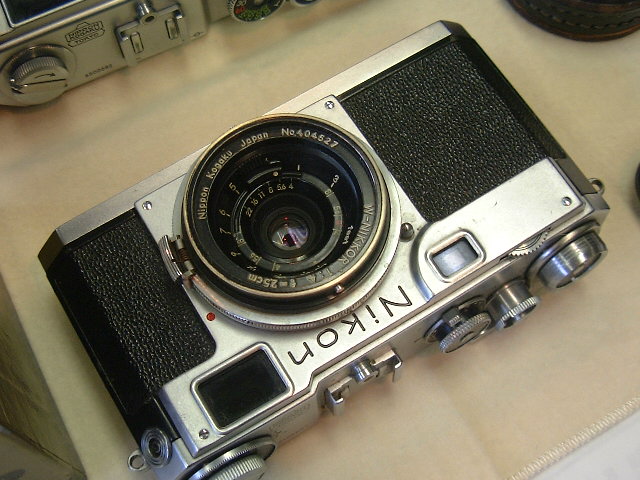 W-Nikkor 2.5cm F4 No. 404527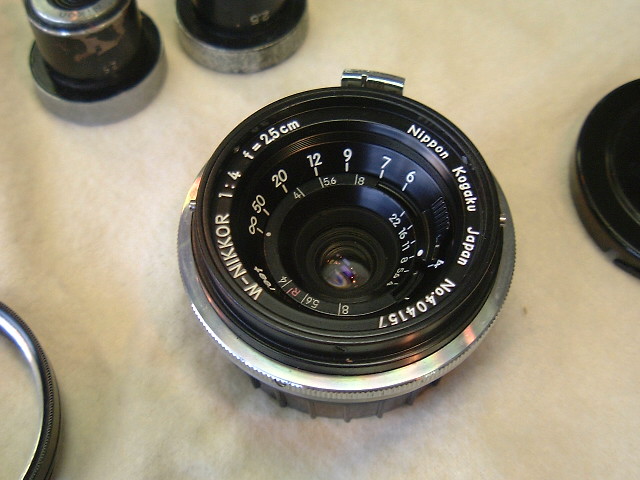 W-Nikkor 2.5cm F4 No. 404157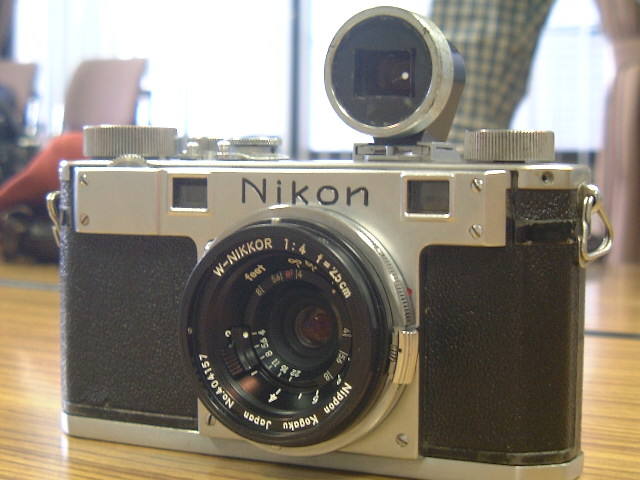 Nikon I and W-Nikkor 2.5cm F4 and 2.5cm finder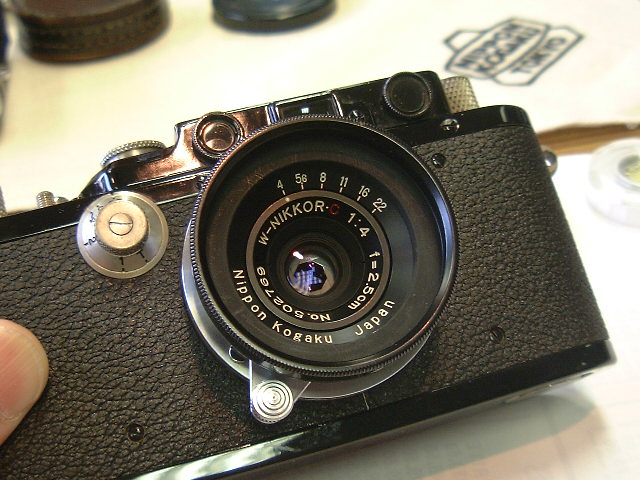 Leica thread of W-Nikkor 2.5cm F4 No. 502769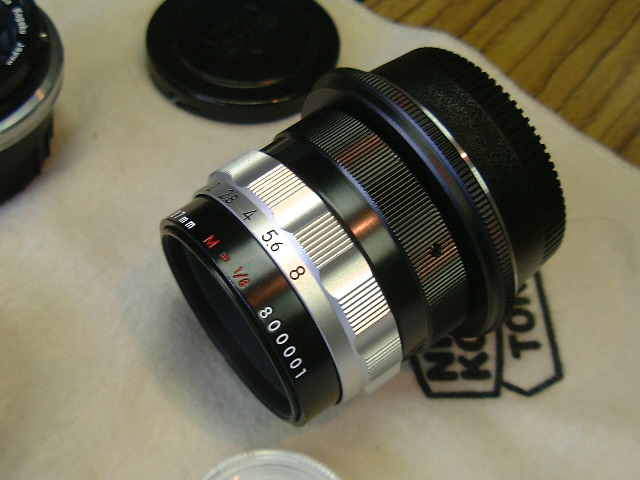 The first production of COM-Nikkor 37mm F1.4 No. 800001
Nice Shot by the Nikon I !!
A special meeting continued. We loaded the film into Nikon I, and took a picture by the Nikon I !! The Nikon I camera is very good working condition. We enjoyed the comfortable sound of shutter release.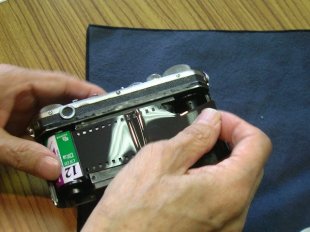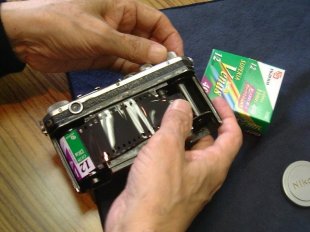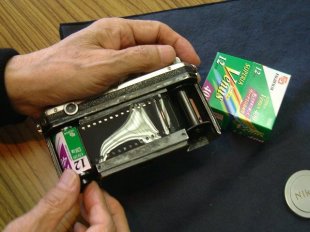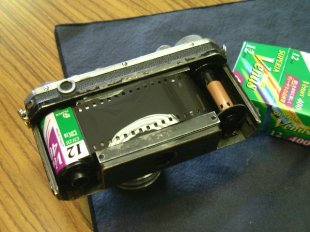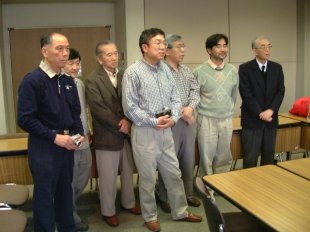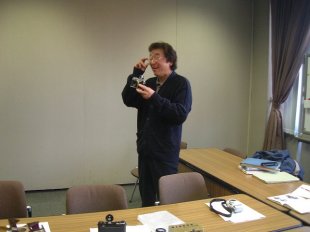 Shot by the Nikon I at JCII Camera Museum, Tokyo
Super Ultra Rare Nikon Variframe Finder
Tad Sato-san showed us a very unusual collection for the special meeting at Christmas. A special collection was a Nikon Variframe finder. The finder has the rotating frame like the turret. You can see the several focal length frames such as 3.5cm, 8.5cm, 10.5cm and 13.5cm. This finder is a prototype not marketed. A beautiful scenery was seen in the Nikon Variframe finder of the phantom.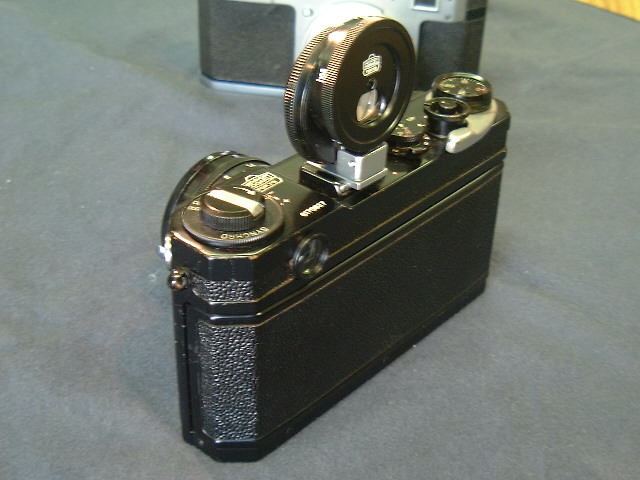 Nikon Variframe finder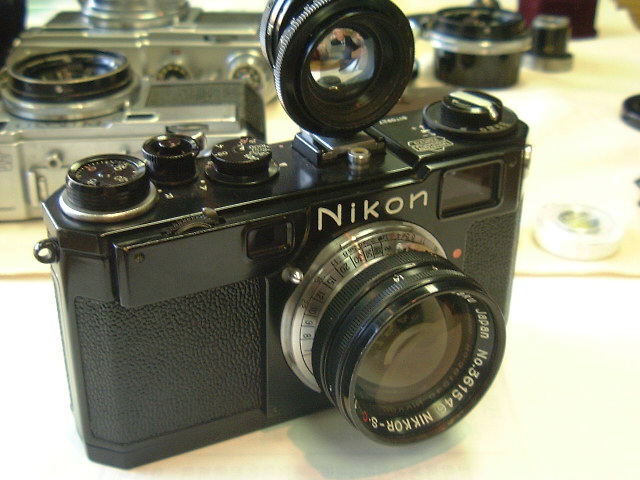 Nikon Variframe finder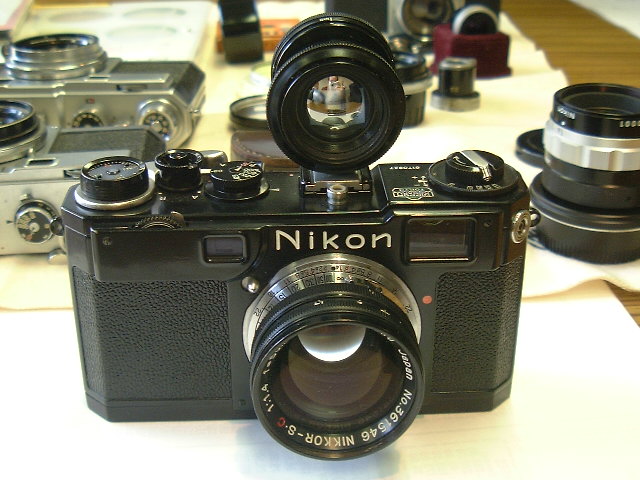 Front of the prototype Nikon Variframe finder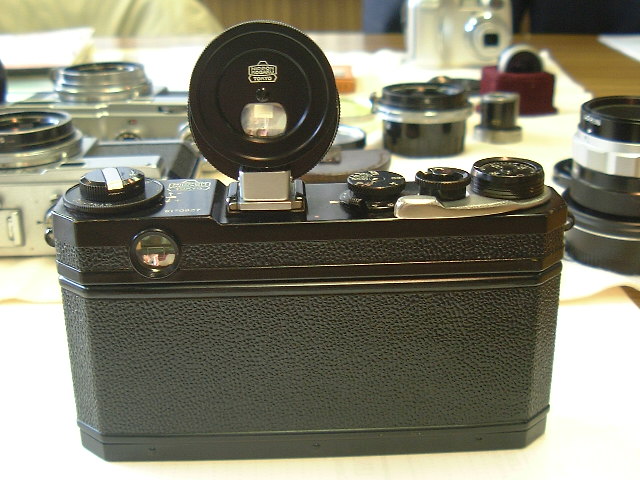 Rear of the prototype Nikon Variframe finder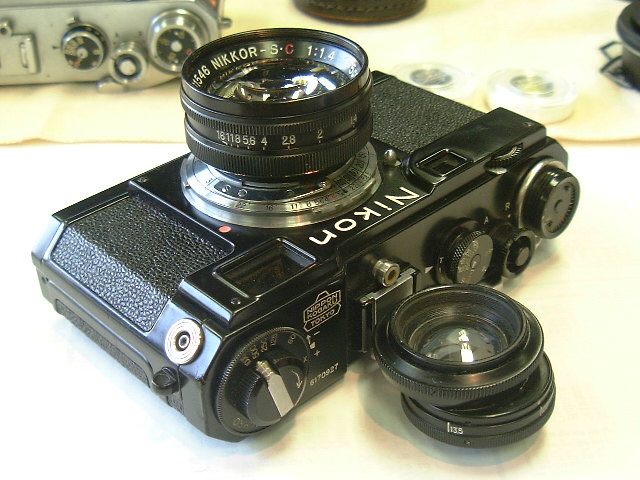 Special shape of Nikon Variframe finder
These images are published in the excellent book below.
Thank you Bob-san! Refer to;
The Complete Nikon Rangefinder System
Robert J Rotoloni
HOVES FOTO BOOKS 2007
THE NIKON ALBADA TYPE VARIFRAME PROTOTYPE
P. 490 - P. 492
Nikon Kenkyukai Tokyo Meeting in Ginza Christmas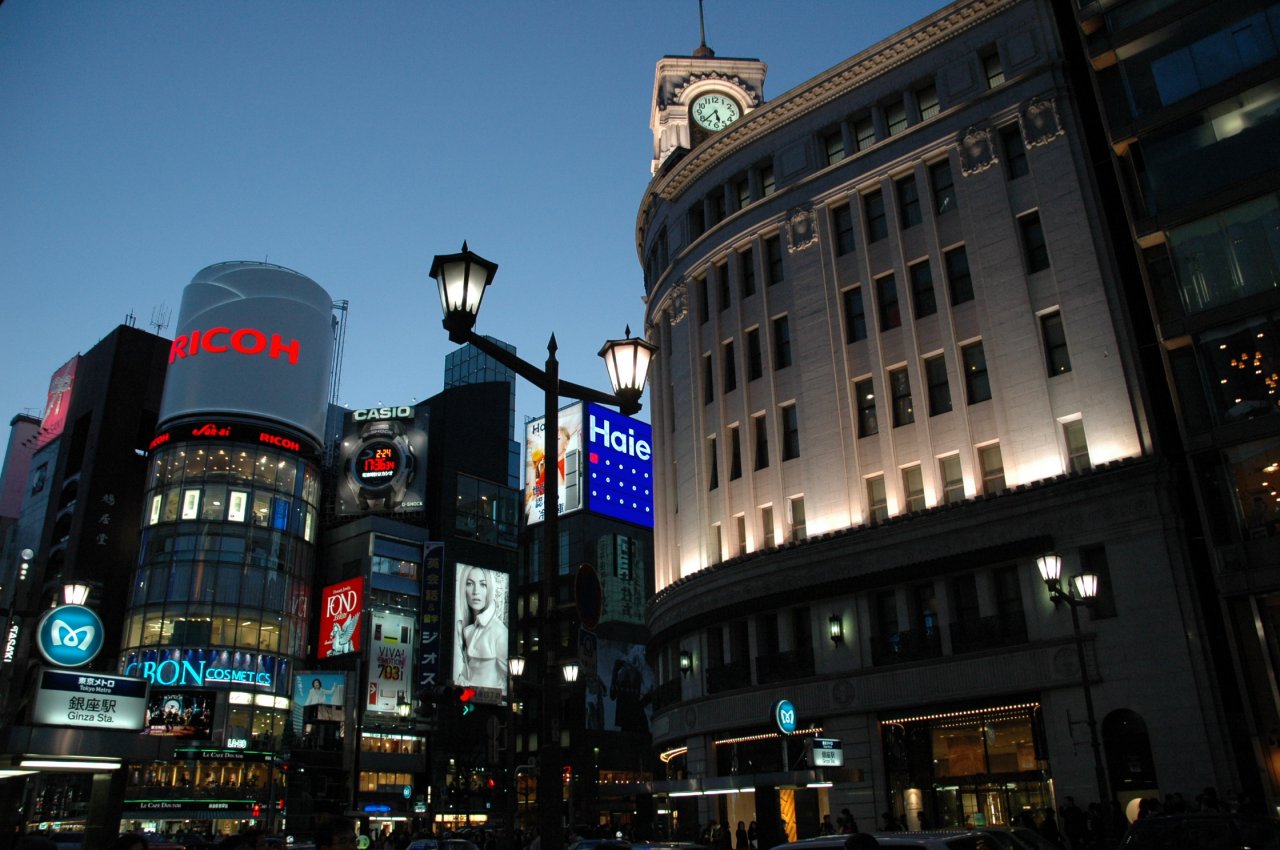 Ginza at dusk
We held the "Bonenkai party" (Year end party) at a restaurant in Ginza. Of course, it was a party for Christmas. The Nikon Kenkyukai always enjoying dinner in Ginza at every year end. We drank champagne and told a lot of stories of the Nikon camera life.
Someone had bought a Nikon lens in Ginza before the party started. It was a Nikkor 5cm F2 lens, and the unusual dome cap was attached. Good job! We took the photos by the Nikon I in dining room. A professional news cameraman, Ryu Koakimoto-san loaded the film into the Nikon I, and he took the photos. We were impressed by his vivid Nikon rangefinder camera operation.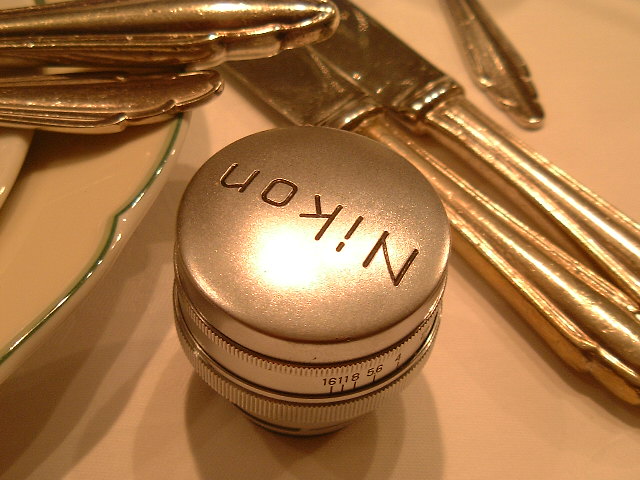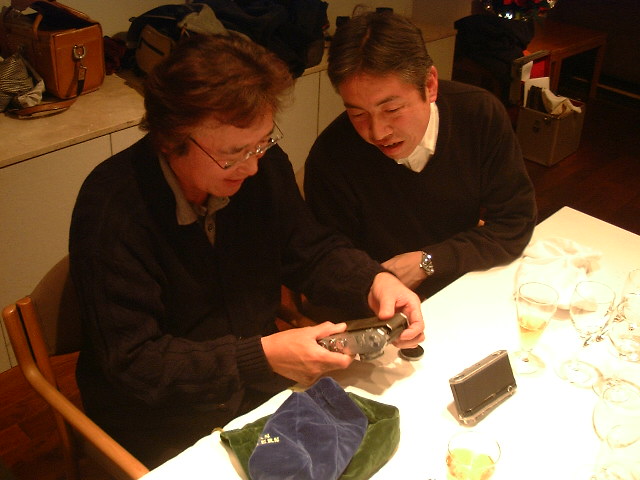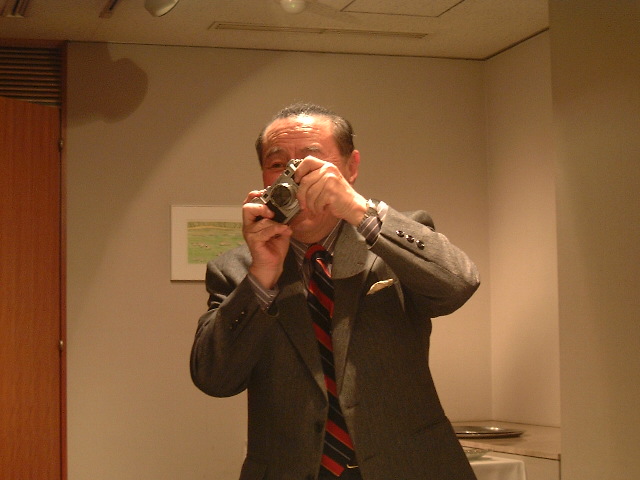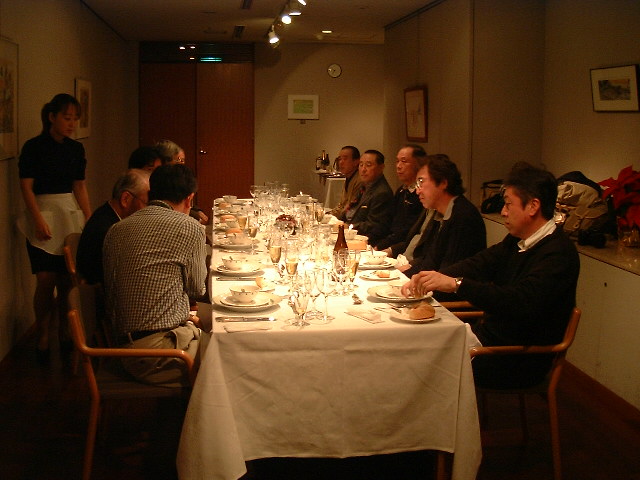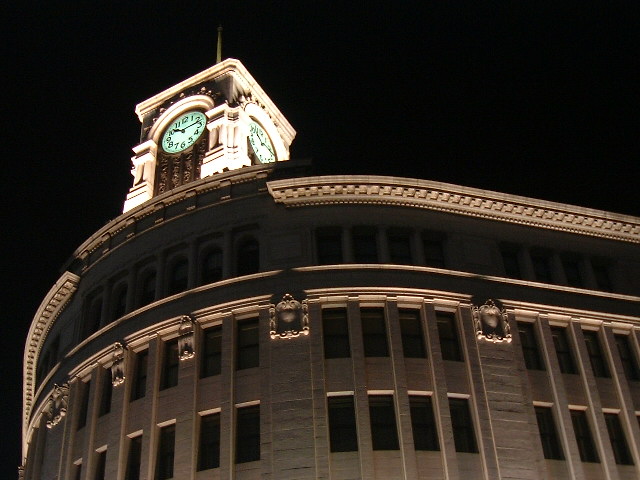 Return to the top page of Nikon Kenkyukai
---
Copyright Michio Akiyama, Tokyo Japan 2004, 2022