October 2004, Nikon Kenkyukai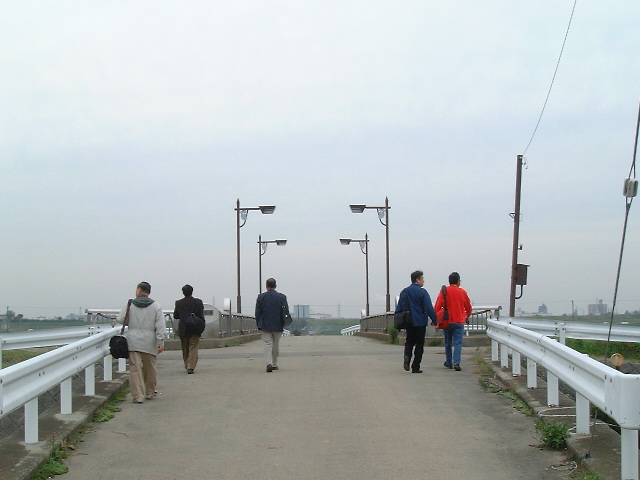 October 16, 2004
Nikon Kenkyukai Tokyo Meeting
Field Workshop
Shibamata, Tokyo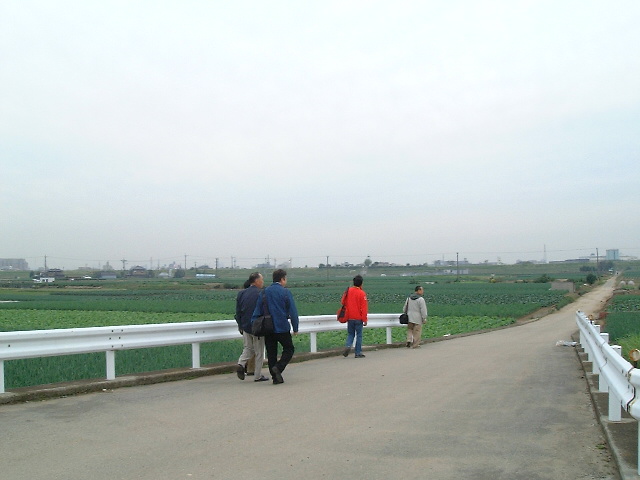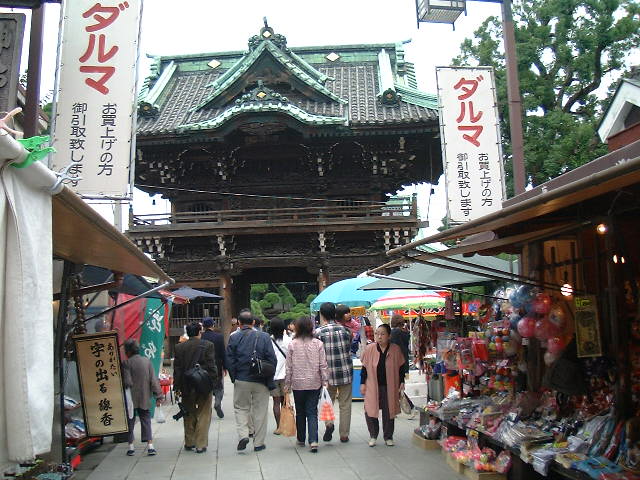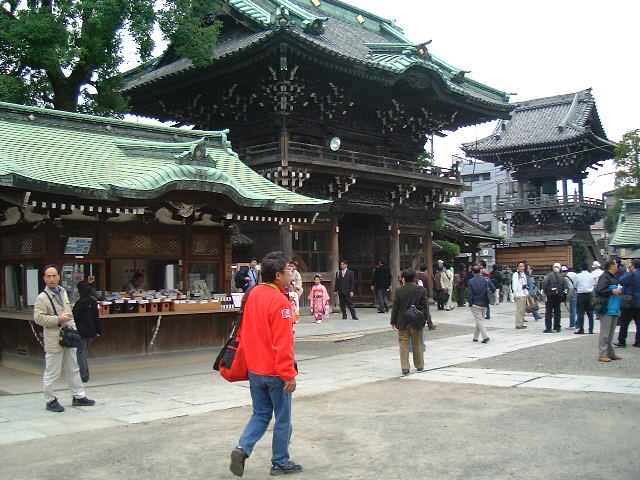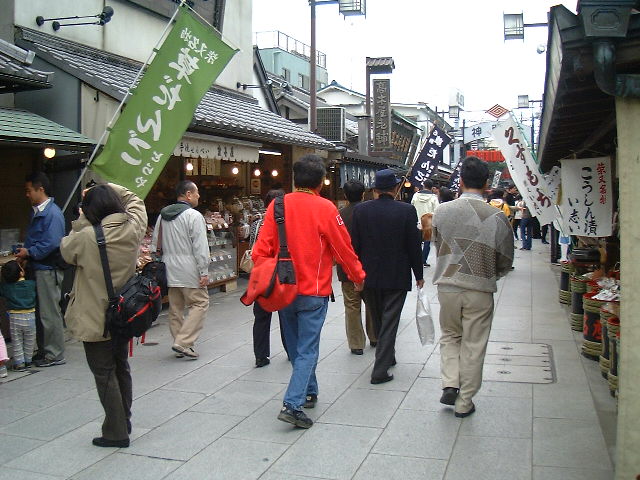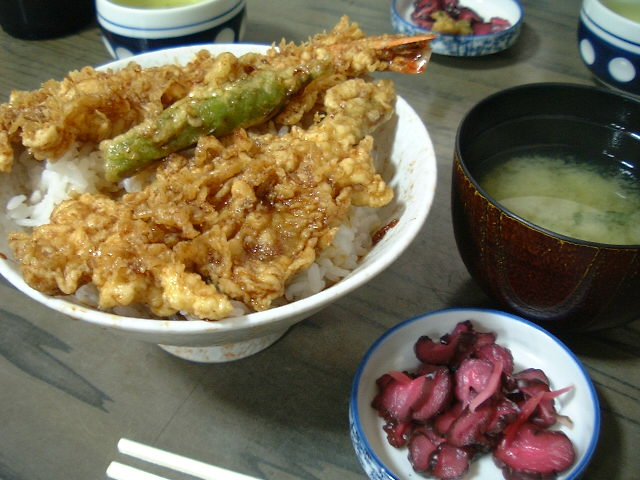 Lunch time, Tendon
Field Workshop in Tora-san's Hometown
The Nikon Kenkyuaki held the field workshop in Shibamata. Shibamata is an old downtown in Katsushika, Tokyo. We walked to Taishakuten temple of Shibamata. The Taishakuten is famous in Japan.
Because the comedy movie "Otoko wa Tsuraiyo" of Japan was taken of a picture at Taishakuten. Although almost unknown outside Japan, comic actor Kiyoshi Atsumi played the most beloved character, Tora-jiro Kuruma (more familiarly known as "Tora-san"). The Guinness Book of Records has noted as the world's longest-running film series in which the same actor played the title role. You'll be amazed 48 in all.
We lunched at Yamatoya, Taishakuten. We drank beer and ate delicious Tendon. Of course, we enjoyed taking a picture with Nikon in Tora-san's hometown.
Usual Camera
In the field workshop, the attendee did not have expensive cameras. Moreover, we had neither unusual cameras nor valuable cameras. However, the attendee begins to talk about the Nikon camera at once. The meeting room is not necessary for us.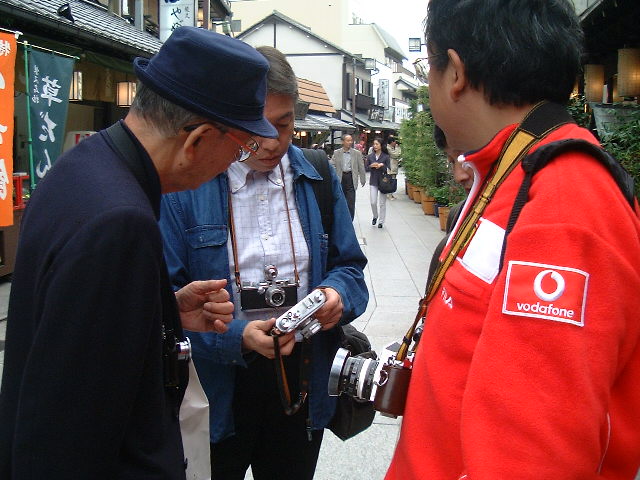 Camera meeting on the road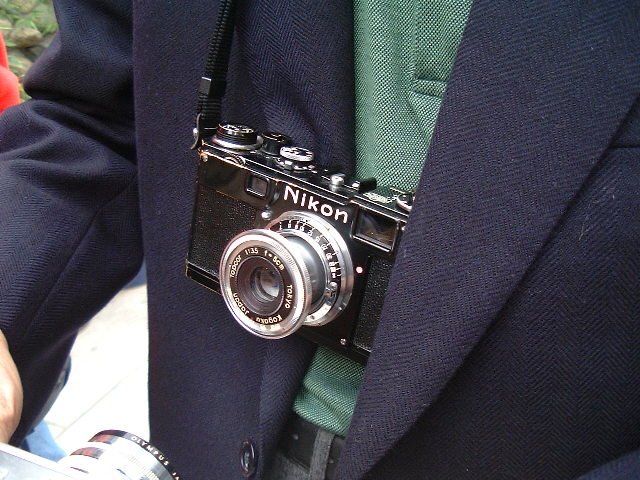 Katsuharu Takashima-san's black Nikon S2 and Topcor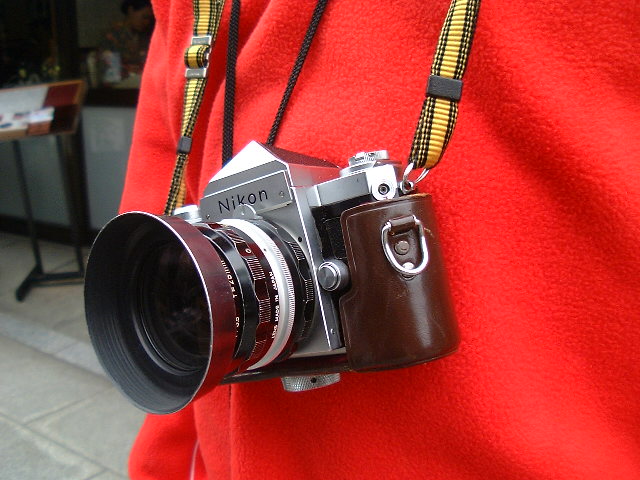 Akihiko Suzuki-san's Nikon F
Kusa dango Meeting
In Tora-san's movie, Tora-san's house is a sweetshop in Taishakuten. Takagiya's sweetshop in Taishakuten street is famous for kusa-dango. Kusa-dango("grass dango") is old-fashioned Japanese sweets which contains a green herb called yomogi. We took a rest in the Takagiya's sweetshop. There were kusa-dango, green tea, and Nikon there.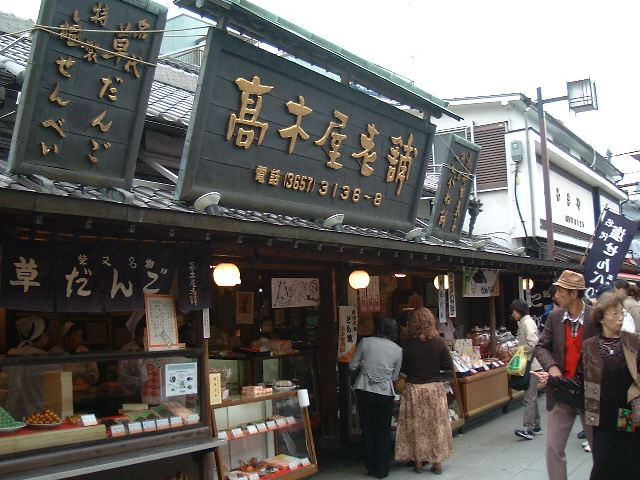 Famouse Takagiya's sweetshop in Taishakuten street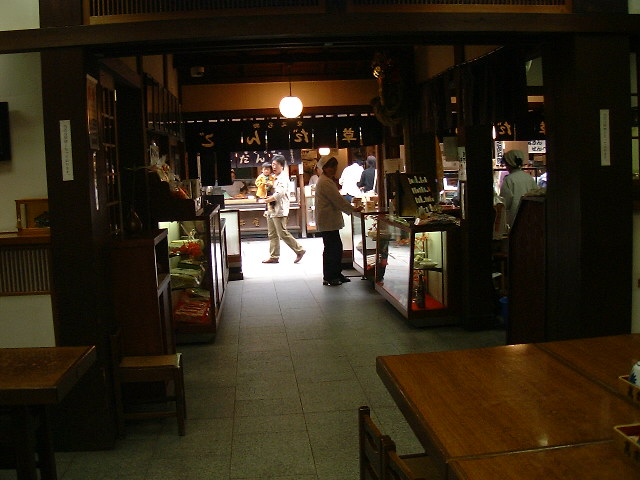 Takagiya's sweetshop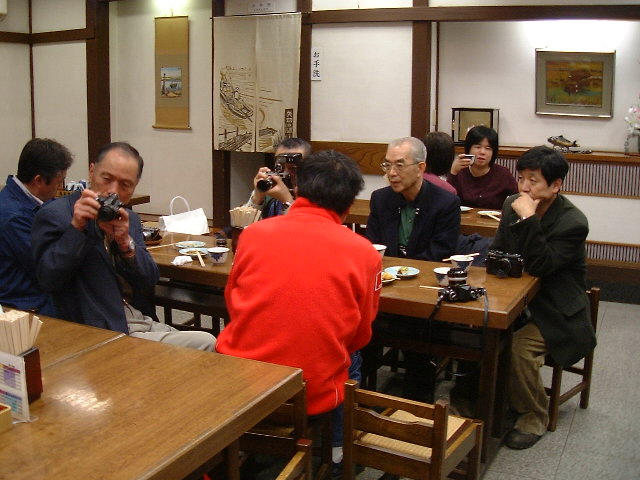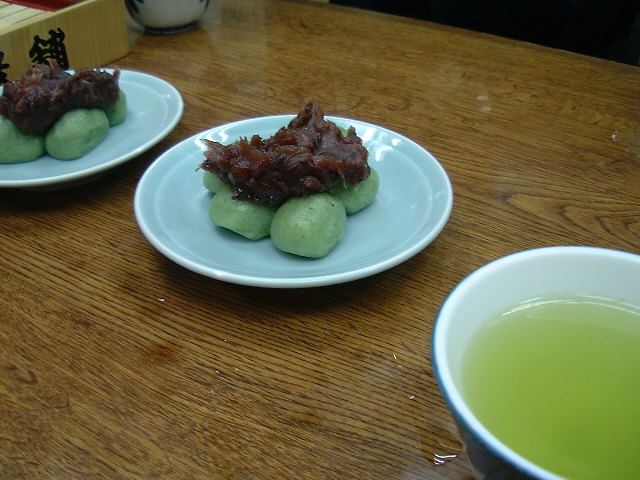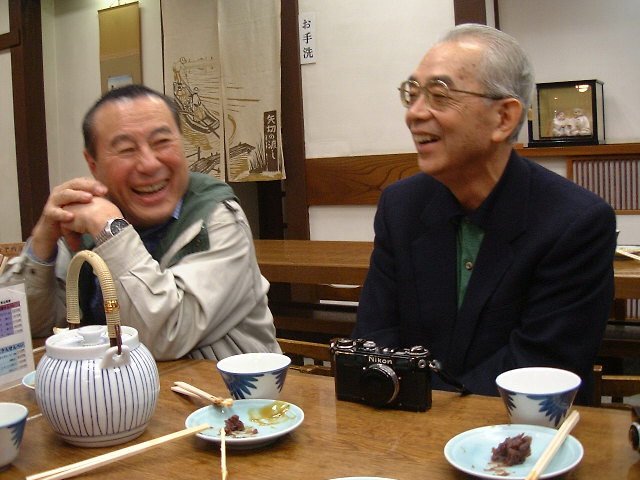 Camera show on the Table
The Nikon camera show started on the Takagiya's table. They are cameras which they are using always usually. Black Nikon SP, black Nikon S2, many rangefinder Nikon, Nikon F and Nikon F2T. There are no expensive, valuable cameras. Please look at the photos. My impression might be incorrect...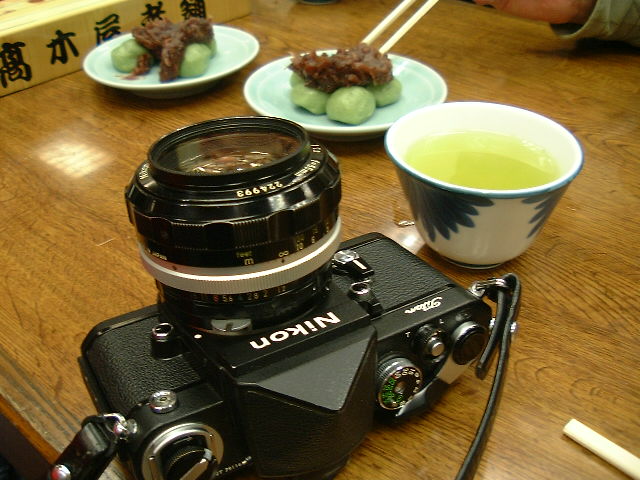 Kusa-dango and Nikon F2T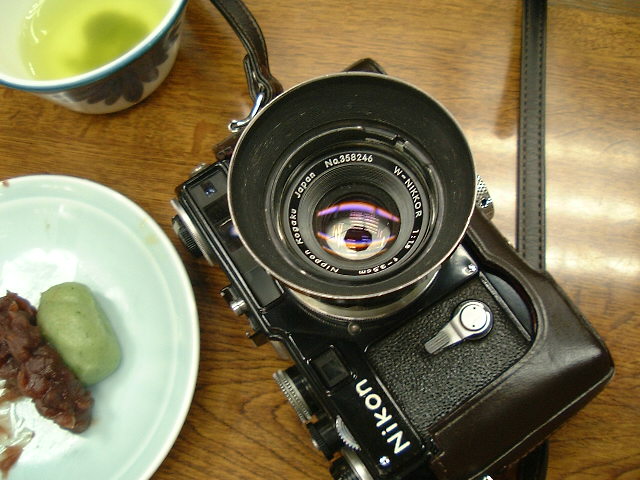 Kusa-dango sweets and black Nikon SP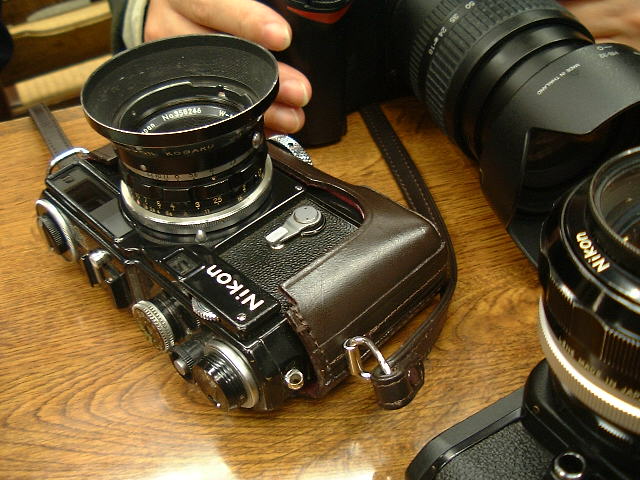 Neko-san's usual camera is SP Nippon Kogaku !!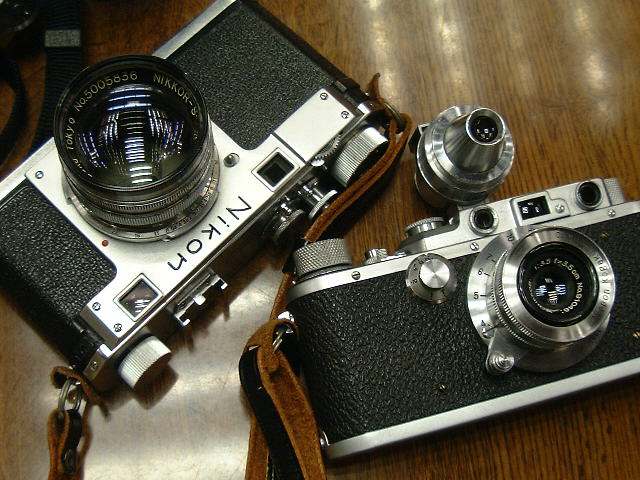 New Nikon S and old occupied Nicca III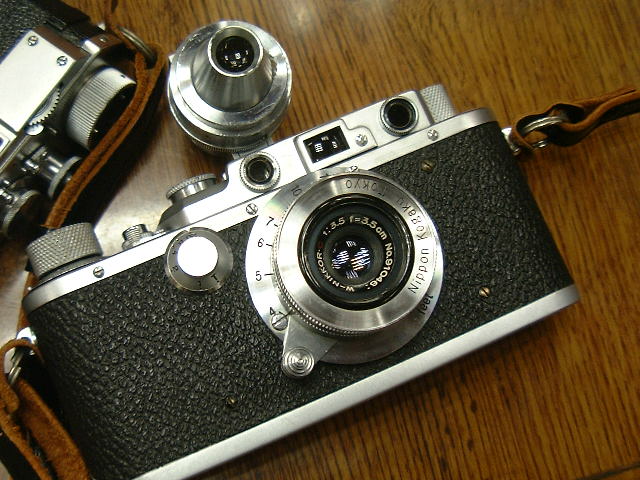 Cool eye of early Nikkor 3.5cm F3.5 No. 91046: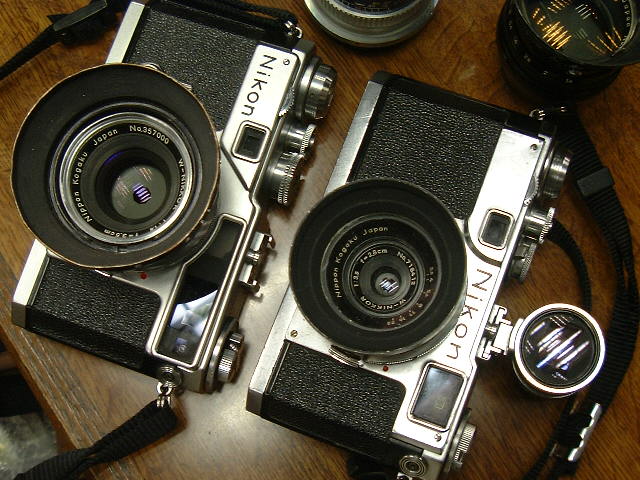 Koakimoto-san's real pressman camera, Nippon Kogaku SP and S2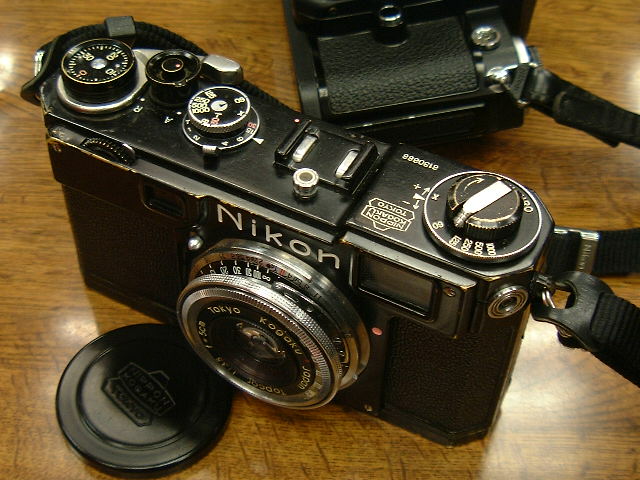 Takashima-san's black Nippon Kogaku S2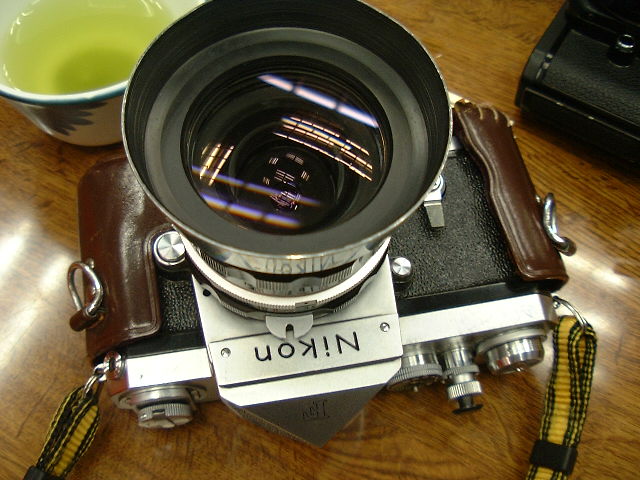 Suzuki-san, is it a usual Nikon F ?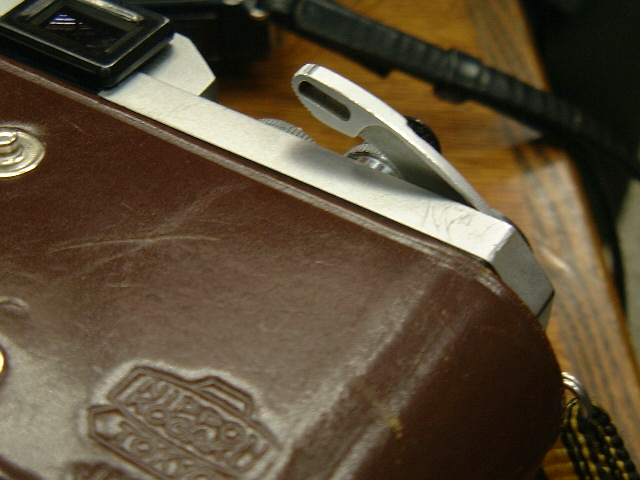 Look at the film winding lever!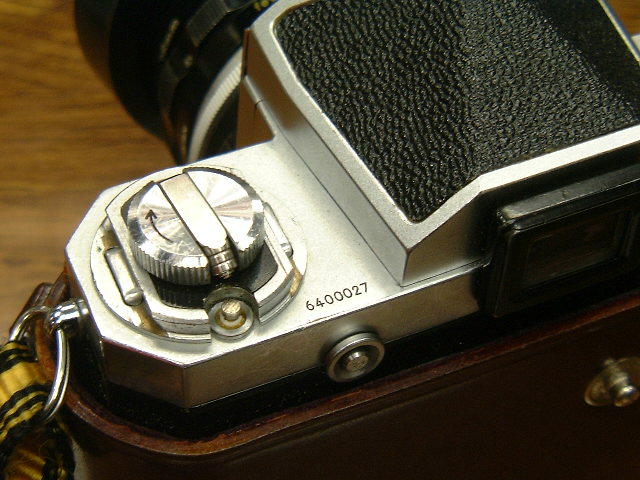 Super early F6400027 !! Yes, Uli-san, Mr. Nikon F !

Super early Nikon F
Recently, Suzuki-san obtained Nikon F. It was very early Nikon F numbered 6400027!! Suzuki-san brought it to the workshop in Shibamata. This Nikon F has the cloth shutter. The sound of the shutter whispered gracefully to the autumn sky in Shibamata.
Tora-san, Kiyoshi Atsumi passed away in 1996 at the age of 68. 190,000 people donated to build his bronze statue. He is welcoming people at Shibamata Station now.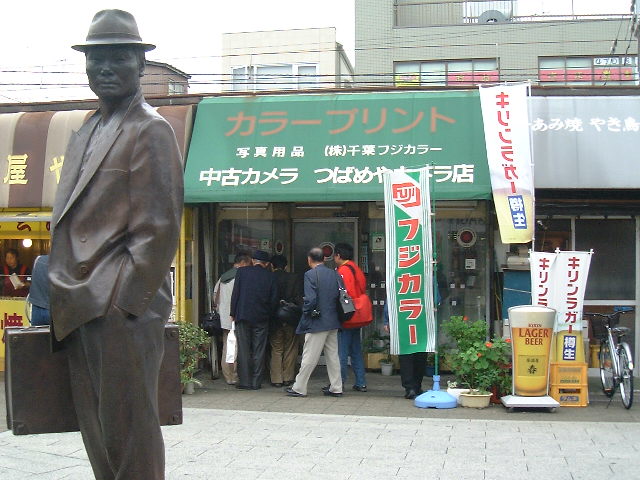 Shibamata-station, Bronze statue of Tora-san, Used camera shop
Return to the top page of Nikon Kenkyukai
---
Copyright Michio Akiyama, Tokyo Japan 2004, 2022